Central Office Orientation
Employee Orientation - Indianapolis, IN
Each Monday, the Indiana State Personnel Department provides a new employee orientation in the Indiana Government Center South building. These sessions begin promptly at 8:30 a.m. (ET) and conclude at 4 p.m. (ET). Please refer to the Orientation Room Locations document to locate your first day's room location. Please note: If a State holiday falls on Monday, orientation is held on Tuesday.
Employees are given an overview of the policies, procedures and benefits available. Other items addressed are supplemental insurance plans, retirement, required trainings, attendance and leave policies, disciplinary actions, performance appraisals and other topics of interest.
What to bring to orientation
Processing of new hires includes but is not limited to completion of the Form I-9, W-4, W-H 4, and direct deposit enrollment. On day one, new employees must bring acceptable identification for the Form I-9 form. This information is available on the New Employee Paperwork page. The remaining forms are to be turned into the respective agency after day one.
Parking and Arriving
We encourage all orientation attendees to plan on arriving on the Indiana Government Center campus no later than 8 a.m. (ET). Plan extra time to locate and park as the garages are busy during most mornings. The Government Center campus has two garages: Washington Street Garage and the Senate Avenue Garage. Plan to park in the Washington Street Garage, unless it's full. New hires parking is validated on day one.
The Washington Street Parking Garage is located at 401 West Washington Street on the corner of Washington Street and West Street. The entrance is on the east side of the building, accessible via Missouri Street. Note: There are four separate entrances located on Missouri Street. Please use the entrance marked Garage 1 (see picture below) to get a visitor's ticket.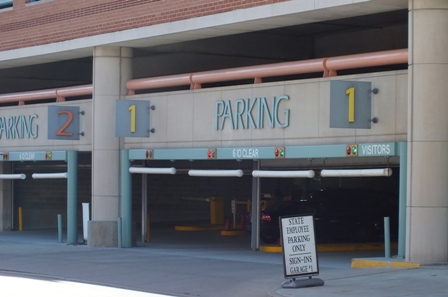 If the Washington Street Garage is full, please proceed to park in the Senate Avenue Parking Garage. This garage is located at 220 North Senate Avenue between New York Street and Ohio Street. You must enter the garage via New York Street to get a visitor's ticket.
Once you enter the garage, pull up to the machine pictured here. Push the BLUE button and receive a parking validation ticket. Bring the ticket with you to Orientation for validation. Your parking must be validated to leave the garage without a fee.
Access to state parking areas is granted to state employees via a state-issued access card, which also serves as your ID badge. Badges are provided to employees upon hiring, but after completion and submission of a Credential and Access Request Form.
If you have additional questions on parking, visit the Department of Administration parking website.
Once you park, you will enter the IGC-South building through the public entrance, as indicated on the IGC-South first floor map. The public entrance opens at 7:30 a.m. (ET) and is located off Senate Ave. This entrance is equipped with metal detectors and screening devices monitored by Capitol Police. Passing through this entrance may take some time.
Location: Indiana Government Center South Auditorium on the first floor. Directions found here >
Plan ahead: Allow 20 minutes to park, go through security at the public entrance, and check-in. Please be aware that the public entrance does not open until 7:30 a.m. (ET).
Reasonable Accommodation(s)
If you need a reasonable accommodation, please let us know as soon as possible so we can make the necessary arrangements. Common accommodation(s) requests include:
ASL Interpreter
Accessible parking
Easy access into and out of the facility
Reader
Accessible restrooms
Printed documents in large print, Braille, or electronic distribution
Computer set-up and/or navigation assistance
Larger seating area for wheelchair users or individuals with service animals.
To request any of these listed above, contact the INSPD Learning & Development team at SPDTraining@spd.in.gov.
Lunch
Orientation attendees are given an hour break for lunch at noon (ET). Lunch is the responsibility of the new hire. Employees on day one will not have access to a refrigerator. Please keep that in mind if you pack a lunch. There is a cafeteria located on the lower level of the Indiana Government Center south building. It offers a variety of hot and cold meals, drinks, fresh breads and pastries, and fruit and salads.
Once Orientation is Complete
All new employees are required to take the following trainings during the first two weeks of employment. Please refer to the Self Service Quick Step Guide to complete required online training courses.
Ethics
Information Resource User Agreement (IRUA)
Workplace and Sexual Harassment Refresher
Cyber Security
Updating Personal Contact Information
All new employees should update their personal contact information to ensure they receive communications to their preferred email account.