Indianapolis through Invoices - Online Exhibit
Curated by Jennifer Born, IUPUI Graduate Public History intern, and Cristella Bond, Ball State University volunteer
Coordinated by Andrea Bean Hough, Indiana Division of the Indiana State Library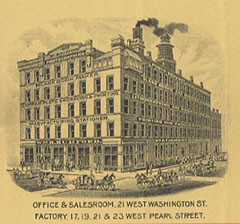 Downtown Indianapolis held a variety of businesses in the 1890s, from cracker manufacturers to candy makers, from whisky sales to music shops. The discerning shopper could purchase china from one of the largest stores of its kind in the United States, buy a tent for an outdoor party, order specially engraved invitations, have his horse "scientifically shod," or could purchase a sturdy, dependable wagon from a shop on the Circle.
"Indianapolis through Invoices" is an online exhibit of illustrated invoices from over thirty businesses in Indianapolis, Indiana during the 1890s. The images and accompanying text show what Indianapolis' businesses were like at the turn of the century. Most of the businesses profiled in this exhibit were located in the "Mile Square," the original area platted for Indianapolis, centered on what is now Monument Circle.
Each business has a small image with its historical sketch. By selecting the image, the entire invoice (500 KB-1 MB) may be seen. Remember, images will take time to load for viewing.
Select a type of business:
About the Exhibit
This exhibit was created during July and August, 1998, drawing from materials held in the Manuscript Section of the Indiana Division, Indiana State Library. Markup of the text into HTML and final editing was performed during September and October, 1998.
The majority of the invoices were chosen for their visual content; a few others were chosen for their interesting products or prices. The majority of the invoices are from the Benjamin Harrison Papers and show the types of materials and services purchased by the upper-class in Indianapolis in at the turn of the century.
By visiting the exhibit, the viewer will get a feeling of what the city looked like through the illustrations on the invoices. Some of the historical sketches provide the viewer with information about how the business grew and changed.
Jennifer Born, summer intern from the graduate public history program at Indiana University Purdue University at Indianapolis, and Cristella Bond, summer volunteer from Ball State University, selected the businesses profiled in the exhibit. They also researched each of the companies to provide a historical sketch of the company the invoice represents and scanned the invoices for the display.
If you have comments or suggestions about this exhibit, please contact the Manuscripts & Rare Books Collection.