Parke County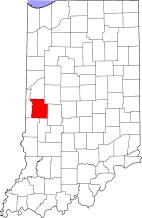 Parke County was created in 1821 from Vigo County and unorganized territory. It is located in west central Indiana. The county seat is Rockville.
The county courthouse burned in 1833 and marriage records prior to 1829 and probates and deeds prior to 1833 were lost.
Selected Holdings at the Indiana State Library
The following list is not complete. Further resources may be found by searching the Indiana State Library online catalog.
Print Materials from the Genealogy Division
Immigration
Naturalization Records, 1854-1949
ISLG 977.201 P237sk
Land Records
Deeds, 1832-1836
ISLG 977.201 P237b v. 2-5

Land Entree Book
ISLG 977.201 P237o

Land Entries
ISLG 977.201 P237b v. 1
Marriage Records
Marriage Records Book A, 1833-1844
ISLG 977.201 P237s 1980z

Marriages, 1829-1979
ISLG 977.201 P237d v. 1-12

WPA Index to Marriage Records, 1850-1920
ISLG 977.201 P237u v. 3-4

WPA Index to Supplemental Marriage Applications, 1850-1920
ISLG 977.201 P237u v. 5
Vital Records
Miscellaneous Death Records, 1924-1988
ISLG 977.201 P237gm

WPA Index to Birth Records, 1903-1920
ISLG 977.201 P237u v. 1

WPA Index to Death Records, 1882-1920
ISLG 977.201 P237u v. 2
Wills and Probates
Miscellaneous Death Records, 1924-1988
ISLG 977.201 P237gm

WPA Index to Birth Records, 1903-1920
ISLG 977.201 P237u v. 1

WPA Index to Death Records, 1882-1920
ISLG 977.201 P237u v. 2
Other Library Materials
Online Resources
Cemeteries and Obituaries
Marriage Records
Military
Newspapers
Vital Records
Wills and Probates
Locating Original Records
For Further Research
GEN SP 7-28-2023