Dubois County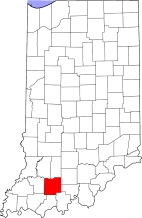 Dubois County was created in 1818 from Pike County. It is located in southern Indiana. The county seat is Jasper. The county courthouse experienced a fire in 1839 which resulted in the loss of almost all records prior to that date.
Selected Holdings at the Indiana State Library
The following list is not complete. Further resources may be found by searching the Indiana State Library online catalog.
Print Materials from the Genealogy Division
Immigration
Naturalization Records, 1839-1954
ISLG 977.201 D815n

Naturalizations, Indiana State Archives
ISLG 977.201 D815dn
Marriage Records
Index to Marriage Record Books 3, 4, 5, 1873-1895
ISLG 977.201 D815do
Marriages, 1839-1848
ISLG 977.201 D815m
Marriages, 1839-1872
ISLG 977.201 D815s

Marriages, 1839-1978
ISLG 977.201 D815stm v. 1-4
Vital Records
Death Records Index, 1882-1920
ISLG 977.201 D815dr

Death Records Index, 1921-1950
ISLG 977.201 D815dra

Death Records Index, 1951-2000
ISLG 977.201 D815drb
Wills and Probates
Index to Will Records, 1840-1924
ISLG 977.201 D815du
Other Library Materials
Online Resources
Cemeteries and Obituaries
Immigration
Marriage Records
Military
Locating Original Records
For Future Research
GEN SP 7-28-2023