DeKalb County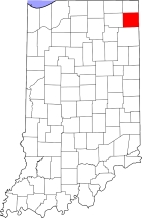 DeKalb County was created in 1835 from Allen and LaGrange Counties. It is located on the Ohio border in northeast Indiana. The county seat is Auburn.
The courthouse experienced a fire in 1913 which resulted in the loss of some records.
Selected Holdings at the Indiana State Library
The following list is not complete. Further resources may be found by searching the Indiana State Library online catalog.
Print Materials from the Genealogy Division
Marriage Reocrds
Early Marriage Records of DeKalb County, 1837-1882
ISLG 977.201 D328he

WPA Index to Marriage Records, 1882-1920
ISLG 977.201 D328u v. 3
Vital Records
Birth Records of DeKalb County, 1921-1944
ISLG 977.201 D328h v. 1-2

Birth Records of DeKalb County, 1945-1965
ISLG 977.201 D328hb v. 1-2

Death Records of DeKalb County, 1899-1920
ISLG 977.201 D328har

Index to Birth Records, DeKalb County, 1966-1980
ISLG 977.201 D328Le v. 1-2

Index to Death Records, DeKalb County, 1920-1965
ISLG 977.201 D328k v. 1-2

WPA Index to Birth Records, 1882-1920
ISLG 977.201 D328u v. 1

WPA Index to Death Records, 1882-1920
ISLG 977.201 D328u v. 2
Other Library Materials
Online Resources
Cemeteries and Obituaries
Court Records
Immigration
Marriage Records
Military
Wills and Probates
Locating Original Records
For Further Research
GEN SF 2-26-2020