Article
Section
Best Books of Indiana - 2011 Nonfiction
Winner: The Art and Craft of Writing Historical Fiction by James Alexander Thom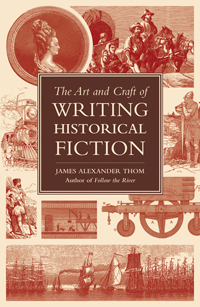 A very impressive book, one gets the feeling, when reading The Art and Craft of Writing Historical Fiction, of a story within a story. Thom writes with a deft humorous hand, on a serious subject, making the topic come alive and the reader wanting more. The guidelines traverse all genres, historical and contemporary, making points for a concise, tight format for any writer's style. The sepia-toned cover lends authenticity to the subject matter. Well-written, well-structured and well-researched, the book is a marvelous guide for the history writing buff; for those who are not, the desire to pick up pen, ink and paper and become one. Thom's humor tips the scale for what could have been a boring experience. His intended audience will love it; a broader audience will embrace the application of his suggestions to their own genre. Any serious writer will cherish it for its versatility and be proud that it is in their library. His subject matter adapts to any surrounding, and the jewels of wisdom offered is especially great for Indiana with its rich heritage, back when "then is now." A very interesting read, considering the irony that he is writing a non-fiction book about fiction writing.
Finalist: Maria's Journey by Ramon & Trisha Arredondo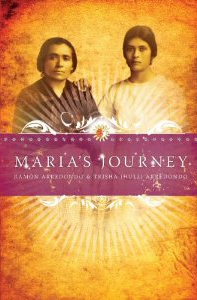 With Maria Perez's journey to America with her older husband, Miguel, from an arranged marriage at the age of 14, and her young daughter, the world receives a miraculous message of hope, determination, love and sacrifice. Maria's Journey creates a feeling of nostalgia for early Twentieth Century living, with memories rising from street hawkers, ice trucks, Saturday afternoon matinees, union beginnings, and a more quiet way of living that did not involve modern-day technology such as cell phones or video games. Indeed, Maria suffered a hard, new-immigrant life, living in a train boxcar while her husband struggled to make ends meet. Maria's determination to make a better life for her children shows quite admirably in her large brood, all of whom learned of hard work, hope, and discipline to succeed. Even though the family dynamics were more paternal in structure, it is quite obvious that the Arredondo siblings learned their attributes from their mother, Maria. A remarkable family is revealed through the eyes of one of the youngest siblings, Ramon, along with his wife, Trisha. Ramon shows a remarkable gift for memory and detail, showing succinctly in the format, content and structure of the book. He and his family have captured the struggles that many immigrants face in America, from generational mores to citizenship status to language barriers to low-paying wages. Although a bit confusing in a few spots on time lapse and back flash, it is nevertheless a remarkable book for showing resiliency of the early immigrant to succeed in America. A wide audience level enjoys reading biographies and autobiographies, and Maria's Journey will not disappoint.
Finalist: Blood Shed in This War by Michael Peake
Blood Shed in This War not only depicts the newly-formed First Indiana German Regiment in all of its finery and glory, but gives a view of the nitty-gritty behind-the-scenes of what these and all of Civil War military faced on the battlefields. Michael Peake has quite admirably documented his story through both words and historical, on-the-scene sketches, borrowed from Captain Adolph Metzner, 32nd Indiana Regiment. Many are done in sepia tones of the day, showing authentic work of soldiers right on the battlefield. Historically well-documented and researched, this story could well be told from the illustrations offered. Moreover, Peake does a superb job of telling the story from many angles of the war, through neophyte soldiers barely trained, to generals, to handling burial of the dead, to pulling thorns out of the back seat of britches, to starvation, to logistics, to massacres. Extensively writing on Camp Morton at Indianapolis, Peake lists August Willich as the commander in charge of the First Indiana German Regiment which stressed "unity, justice and freedom." Headquarters were "set up at the Union Hall opposite the courthouse on the corner of Pennsylvania and Market Streets" and soon German immigrants in Indiana formed the First German Regiment. Thus began the saga of the Civil War, which involves every American today. Peake has produced a beautifully bound, magnificently covered coffee table book that readers would be proud to own. It would not sit on a dusty shelf, but rather at centerpoint on the living room coffee table, well-thumbed and treasured.
Finalist: Growing Up With Bakers Corner by Mary Elizabeth Wilson
Growing Up With Bakers Corner is a marvelous book that is well written and well documented. The stories throughout the book succeed in portraying not only what a remarkable woman was Mary Elizabeth Wilson, but also how far society, particularly rural Indiana, has changed in just two or three generations. This book is great addition to the select group of contest finalists because it is so terrifically Indiana in its very essence. The many references to Indiana places, themes and sentiments and how they have changed in less than a century really added to the reading experience, and the great nostalgic pictures brings back many memories. Editors Carol Stewart Longenecker and Ellen D. Swain should be commended on their ability to elegantly organize these many stories and anecdotal thoughts on everything from small-town Indiana culture to day-to-day activities into an engaging and fluid read.