Article
Section
Phantom Finder - Info for Libraries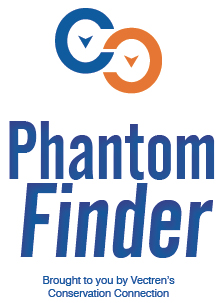 The Indiana State Library has a limited amount Phantom Finder promotional toolkits remaining for participating libraries, including boxes and backpacks. We also have a handful of replacement and surplus meters for libraries with units that have been damaged or that have long holds on the meters. You can also utilize the printable resources found below.
Please feel free request the promotional items (up to five per meter) or meters by emailing Drew Griffis at agriffis@library.in.gov.
More Printable Resources:
Project Background
The Vectren Corporation partnered southwest Indiana libraries to encourage patrons to save money on their electric bills by participating in the "Phantom Finder" program. The consumer-acclaimed Kill-a-Watt power meter measures energy consumption by the kilowatt-hour — the same unit of measurement that utilities use. It can estimate the electrical consumption and costs associated with appliances, electronics and other hardware by the hour, day, week, month or even an entire year.
Library patrons will be able to check out a "Phantom Finder" energy detector toolkit at any pilot library just as they would check out a book. The toolkit will include a "Phantom Finder" back pack and instructions on how to use the meter, what the information means, and tips about energy consumption. These items are the patron's to keep after returning the Kill-a-Watt unit.
Questions?
Contact Drew Griffis at 317.650.6158 or agriffis@library.in.gov