Main Content
Featured Content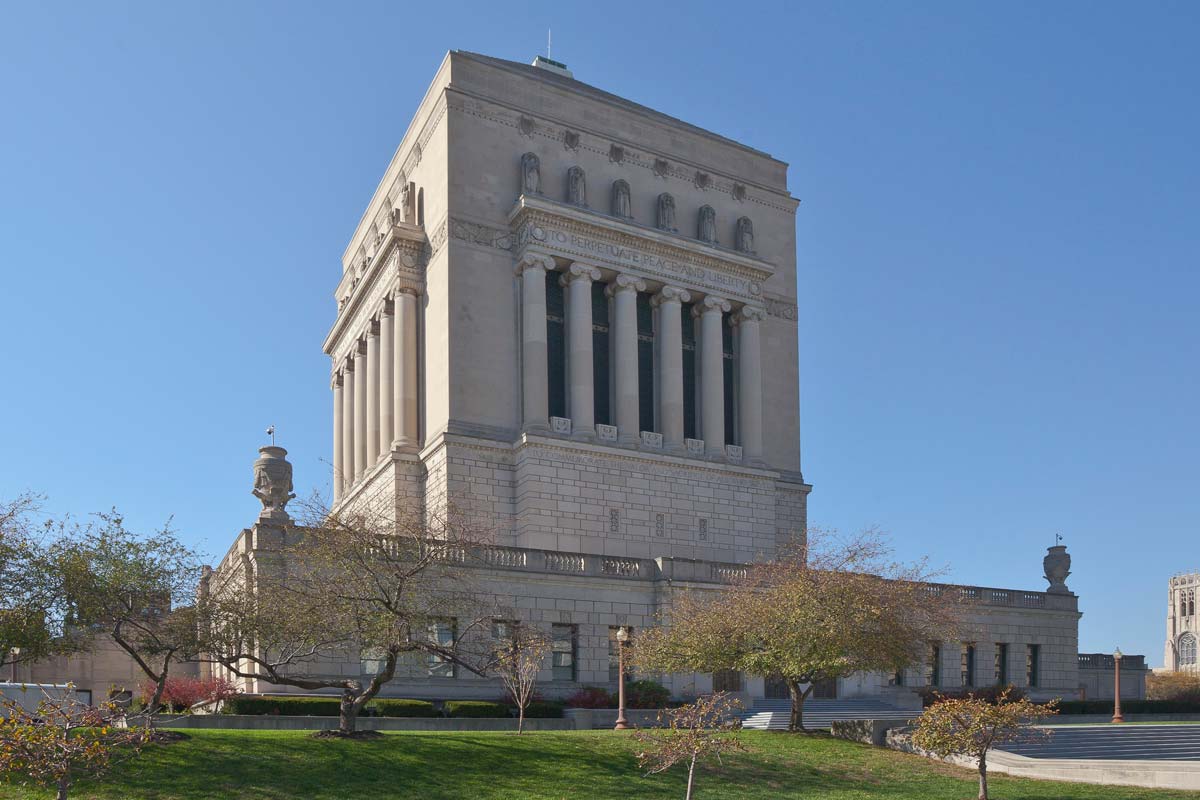 Honoring Hoosier Veterans
Welcome to the Indiana War Memorials
The Indiana War Memorial Plaza Historic District contains a museum, three parks, and 25 acres of monuments, statues, sculptures, and fountains in the heart of downtown Indianapolis, making the state's capital second only to Washington D.C. in acreage and number of monuments dedicated to veterans. It is also home to the American Legion national headquarters. The IWM Commission operates these facilities in pursuit of its primary mission: to commemorate the valor and sacrifice of the United States Armed Forces and to honor Hoosier veterans and Indiana's role in the nation's conflicts.
For more information, please visit the Indiana War Memorials Foundation.
Hours of Operation
The Indiana War Memorial Museum is open Wednesday-Sunday from 9:00 AM to 5:00 PM.
The IWM Business Office is open Monday-Friday from 8:00 AM to 4:00 PM.
The Soldiers & Sailors Monument is open Wednesday-Sunday (May to October) or Friday-Sunday (November to April) from 10:30 AM to 5:30 PM.
The War Memorials are closed on all National and State holidays except Memorial Day and Veterans Day.
Bricks of Remembrance Program
The Indiana War Memorials Foundation has launched its "Bricks of Remembrance" program to memorialize veterans. Each brick will be engraved with a veteran's name, rank, branch and dates of service, and placed around the Soldiers & Sailors Monument on Monument Circle, the heart of the State of Indiana and its capital of Indianapolis, ensuring that our heroes will not be forgotten by future generations. You can contribute to the placement of as many bricks as you wish for $100 tax-deductible charitable donation each. Bricks will be engraved and installed on a quarterly basis. Click here to download the donation form.
Girl Scouts for Old Glory
The Indiana War Memorials has partnered with the Girl Scouts of Central Indiana to collect US Flags that should be retired. The purpose of the collection is to provide a proper way of retiring the flags which will take place at the Girl Scouts summer camps where the scouts will learn the history and meaning of flag retirement. Flags will be collected at the Indiana War Memorial throughout the year. US Flags that are structurally damaged or faded should be respectfully disposed. This program provides for proper retirement and presents a learning opportunity for the Girl Scouts. Click here to listen to an interview about the program on WFYI's "No Limits".
Latest News
Indiana War Memorials Commission Meeting: The next quarterly meeting of the IWMC will be held in Woodfill Boardroom at the Indiana War Memorial on: 7 December, 2018 at 10:00 AM.
The Ground Zero 360 9/11 Exhibition will be on display at the IWM through the month of January, Wednesday-Sunday from 9:00 AM to 5:00 PM. Admission is free.
For the latest IWM news, please follow us on Facebook.