Vision
Engaged members able to realize their retirement dreams.
Mission
As fiduciaries, educate stakeholders, collect necessary contributions, and prudently manage member assets to deliver promised DB and DC benefits and services.
Our Values
People are the foundation of our success. It takes people with different backgrounds, ideas, and strengths to be successful. Learn more about our values by downloading the INPRS Believes presentation linked in the image below.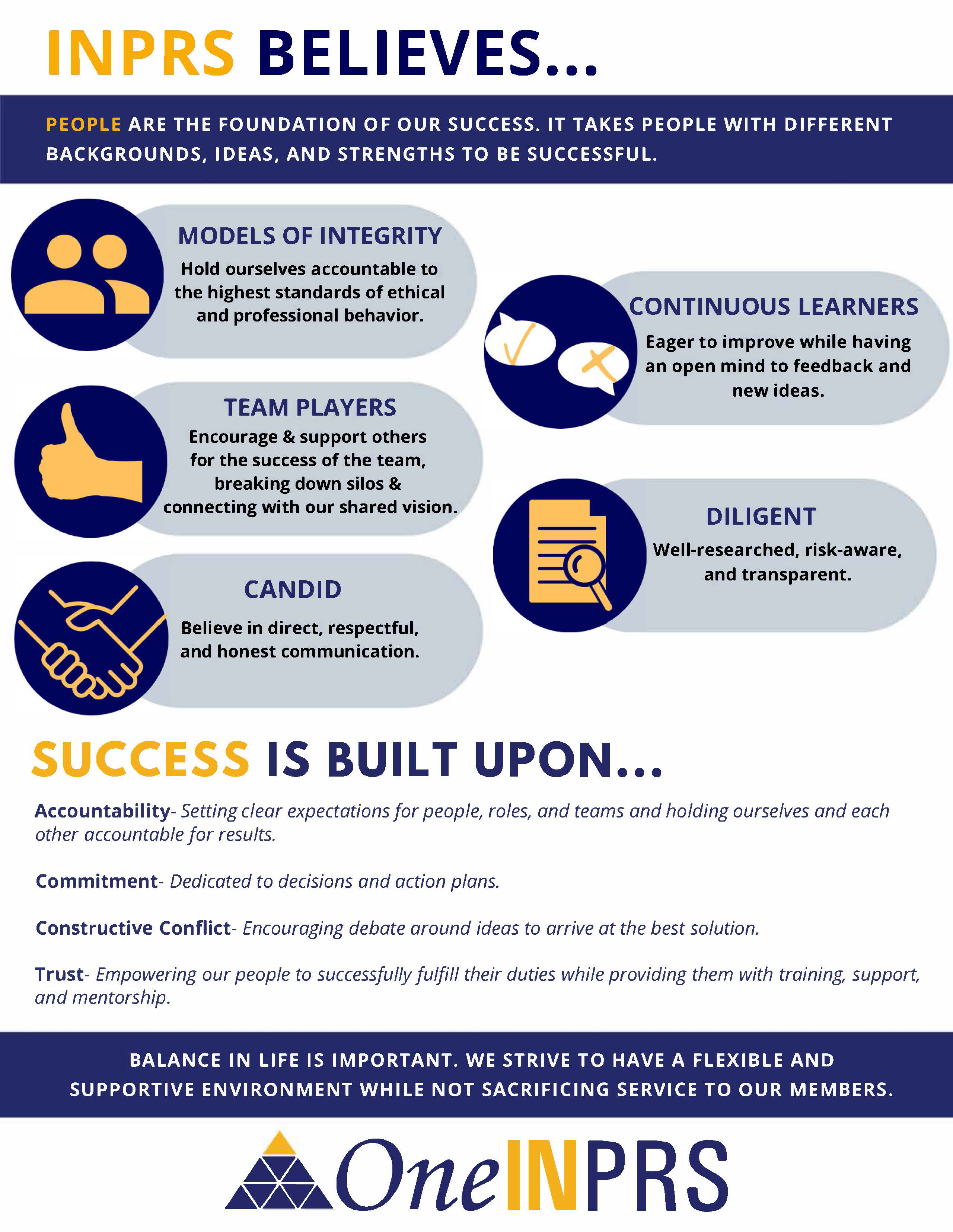 Overview
On July 1, 2010, the board of trustees of the Indiana State Teachers' Retirement Fund (TRF) and the Public Employees' Retirement Fund (PERF) was required to appoint and fix the compensation of a common director for TRF and PERF.
Legislation approving the merging of the administration of funds of the Public Employees' Retirement Fund (PERF) and the Teachers' Retirement Fund (TRF) was adopted by the General Assembly and signed by Gov. Mitch Daniels in April 2011. The creation of the Indiana Public Retirement System (INPRS) became effective July 1, 2011. Combined membership totals equal nearly 500,000 members.
Each retirement fund continues as a separate fund under the oversight of a combined INPRS nine-member board of trustees. Individual funded status for each will continue to be calculated separately.
INPRS will administer and manage the following plans:
Public Employees' Retirement Fund
Teachers' Retirement Fund -

Pre-1996 Account
1996 Account

Prosecuting Attorneys' Retirement Fund
1977 Police Officers' and Firefighters' Pension and Disability Fund
Legislators' Retirement System -

Defined Benefit Plan
Defined Contribution Plan

Judges' Retirement System
State Excise Police, Gaming Agent, Gaming Control Officer and Conservation Enforcement Officers' Retirement Plan
INPRS will also oversee three non-retirement funds including the Pension Relief Fund, the Public Safety Officers' Special Death Benefit Fund and the State Employees' Death Benefit Fund.