Program Sites
Site List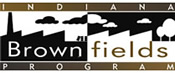 The Indiana Brownfields Program site list is updated regularly. The list is not an inventory of all brownfield sites in Indiana, but rather those sites at which the Indiana Brownfields Program has considered or provided financial, legal or technical assistance upon request. In addition, this list serves as the Program's public record of any institutional controls (e.g., environmental restrictive covenants) required at Program sites.
---
IDEM Institutional Controls Registry
The IDEM Institutional Controls Registry is a listing of sites with Institutional Controls (ICs), sorted by county, which can be found on IDEM's website:
https://www.in.gov/idem/cleanups/investigation-and-cleanup-programs/institutional-controls/
The IC Registry includes information such as the site address, county, city, IDEM cleanup program overseeing the project, and the types of land use restrictions applicable for the site. The registry also has interactive features including a link to view the actual IC document using IDEM's Virtual File Cabinet, and, where available, Internet mapping technology for an aerial view of the site.
---
Virtual File Cabinet
The Virtual File Cabinet (VFC) is the online system used to view Indiana Department of Environmental Management (IDEM) site files. It also includes the Indiana Brownfields Program site files. Here are some helpful tips for accessing brownfield site information from the VFC:
Click here to access the VFC. This link takes you to the Facility Search page, where you may enter search criteria accordingly. For the most efficient search, select "Enhanced Search" on the VFC tool bar.
At the bottom of the Enhanced Search page, you may search using facility/site name, location address, city, etc. The quickest search is using the IDEM/Program site number – a seven-digit number beginning with numeral 4. If you do not have that number, then contact the Indiana Brownfields Program for assistance.
All questions should be directed to Tonya Keller at 317-234-4293.