Main Content
Article
Brownfields Program Sites
Site List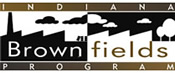 The Indiana Brownfields Program site list is updated monthly. The list is not an inventory of all brownfield sites in Indiana, but rather those sites at which the Indiana Brownfields Program has considered or provided financial, legal or technical assistance. In addition, this list serves as the Program's public record of any institutional controls (e.g., environmental restrictive covenants) required at Program sites.
Submit Your Brownfield Project ROI Survey
The Indiana Brownfields Program is once again collecting important information related to the financial, legal, and technical assistance it provides to our stakeholders. If you have received assistance from the Program, please complete our survey and submit it to the Program. Your feedback is instrumental as we evaluate our services so that we can continue to provide the most beneficial assistance to Indiana communities and acknowledge your successes. The Program's award of future financial assistance may depend on having your completed surveys.
Submit completed surveys to Nancy Dollar of the Indiana Brownfields Program via e-mail at nadollar@ifa.in.gov or fax to 317-234-1338. Call 317-234-9764 with any questions.
ROI Survey - Excel
IDEM Institutional Controls Registry
The IDEM Institutional Controls Registry is a listing of sites with Institutional Controls (ICs), sorted by county. There are two IC Registry summary reports available:
Institutional Controls Registry Remediation Sites Report [PDF]
o Contains various remediation program sites including the Leaking Underground Storage Tanks Program, Voluntary Remediation Program, State Cleanup Program, RCRA Corrective Action, Federal Programs, and the Indiana Brownfields Program (administered by the Indiana Finance Authority).
Institutional Controls Registry Solid Waste Sites Report [PDF]
o Contains solid waste sites subject to 329 IAC 10 deed notice requirements.
The IC Registry includes information such as the site address, county, city, IDEM cleanup program overseeing the project, and the types of land use restrictions applicable for the site. The registry also has interactive features including a link to view the actual IC document using IDEM's Virtual File Cabinet, and, where available, Internet mapping technology for an aerial view of the site.
Virtual File Cabinet
The Virtual File Cabinet (VFC) is the online system used to view Indiana Department of Environmental Management (IDEM) site files. It also includes the Indiana Brownfields Program site files. Here are some helpful tips for accessing brownfield site information from the VFC:
Click here to access the VFC. This link takes you to the Facility Search page, where you may enter search criteria accordingly. For the most efficient search, select "Enhanced Search" on the VFC tool bar.
At the bottom of the Enhanced Search page, you may search using facility/site name, location address, city, etc. The quickest search is using the IDEM/Program site number – a seven-digit number beginning with numeral 4. If you do not have that number, then contact the Indiana Brownfields Program for assistance.
All questions should be directed to Tonya Keller at 317-234-4293.