Step 1: Availability
To hold your wedding at the Statehouse, for wedding ceremony availability and to answer additional questions, contact:
Tracy Jones, Director
Room 140
402 W. Washington Street.
Indianapolis, IN 46204
(317) 233-3116
tjones@idoa.in.gov
Step 2: Schedule a Site Visit
Seeing is believing! A Statehouse site visit to walk through the spaces that will be used for your special day is encouraged. To visit the Indiana Statehouse, contact Tracy Jones (see contact information above).
Step 3: Wedding Use Agreement
A Wedding Use Agreement must be completed in order to reserve your wedding date at the Indiana Statehouse. It is recommended that you submit your request as far in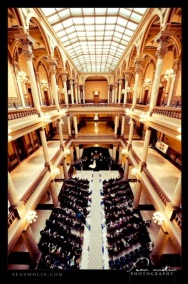 advance as possible.
Step 4: Deposit
The payment, along with your completed Use Agreement, must be submitted by a pre-determined due date. Checks should be made payable to the Indiana Department of Administration. Payment in full is due 30 days following your original Use Agreement due date. All events must be in accordance with Indiana Department of Administration General Rules, as set forth in the Use Agreement. Send your check and Use Agreement to Tracy Jones, Director (see contact information above).
Step 5: Submitting Your Final Layout
Your completed Use Agreement Addendum including desired layout and equipment is due 45 days prior to your wedding date. We will schedule a meeting with you to ensure that your day is special and worry free.
Step 6: Arrive for your Wedding day and enjoy!!