Your Wedding at the Statehouse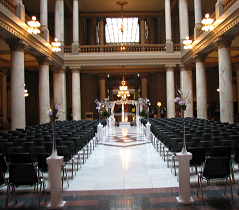 The Indiana Statehouse, with its obvious grandeur, is available to serve as your perfect wedding location – an experience that will be unparalleled. The Statehouse is available for your ceremony!
The elegance of the Indiana Statehouse captures the most esthetically pleasing dream. The Statehouse embodies the perfect locale for a wedding ceremony with its Doric-style architecture and appealing exterior landscape. The beauty of your day becomes elaborate. The unity of bride, groom, friends and family will never fade.
The Atriums, Doric in style, boasts marble floors and brass chandeliers surrounded by an ornate balcony. Up to 500 guests may be accommodated in the North or South Atrium.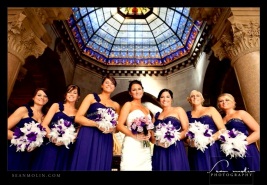 The soaring architecture, stained glass dome, and ornate columns also make it a popular choice for your wedding.
The Statehouse is generally booked over a year in advance (See How to Schedule Your Wedding). The facility is featured at bridal shows, in local magazines, and at photography studios. The number of available wedding dates is limited due to the Statehouse's remarkable and one-of-a-kind attributes. Don't settle for anything less than a most memorable wedding!

A wedding at the Indiana Statehouse is designed to be an historic affair. Your wedding will capture the elegance and beauty of Indiana's most beautiful wedding venue!
Scheduler Contact Information
Tracy Jones, Director
(317) 233-3116
tjones@idoa.in.gov
Wedding Amenities
The Indiana Statehouse wedding package includes 4 hours of facility use, parking, and equipment rental, including sound system to make your ceremony a success. The wedding package includes:
Facility Fee (4 hours)
One and one-half hour rehearsal (as available)
Electrical hook-up
Labor cost for set up, break down and clean up, of our equipment
Statehouse Special Events staff member
Security
Parking for up to 200 vehicles
Stage
Sound systems (includes wireless microphones and speakers)
Unity candle table
Tables
Black Chairs
Coat racks
Access to two holding areas for the bridal party
Use Fee and Cancellation Policy
Events occurring at the State House between 5:00 p.m. and 7:30 a.m. weekdays, and on Saturdays and, Sundays, are subject to a fee of $1,100 for 2021 and $1,250 for 2022. No reservations will be held without payment of this fee. A partial payment must be submitted by a pre-determined due date. Payment in full is due 30 days following your original Use Agreement due date. Checks should be made payable to the Indiana Department of Administration (IDOA).
IDOA will give a full refund based on the original reservation date if the event is cancelled six (6) months or more in advance, a 50% refund if cancelled between three (3) and six (6) months in advance, and no refund if cancelled with less than three (3) months notice or if the user is a no-show.
More Information for Brides and Grooms