QPA 11437 | The Remi Group
Equipment Maintenance
A maintenance agreement is a contract between a service provider and the property owner in which the provider agrees to perform maintenance service on the particular piece of property. This QPA, for an Equipment Maintenance Management Program (EMMP), allows agencies to consolidate their agreements down to one while guaranteeing a minimum 30% of savings off of the existing service provider or the industry risk assessment service price. Further, with this agreement the State saves on maintenance repair costs and benefits from an industry expert that is more knowledgeable about equipment fleet service needs
Preventative and corrective maintenance is covered per the manufacturer's specifications as well as software updates and support (following the Equipment Maintenance Service Agreement and Schedule of Covered Equipment). While inspections of equipment are not required, the item has to be functional and in good working condition when coming onto the program. If not, it must be repaired prior to adding. Then after being added to the contract, you are covered for preventative maintenance as the manufacturer recommends and repairs as issues arise. Within reason, agencies are allowed to request preventative maintenance in advance at no additional expense.
Benefits of the Remi EMMP
Cost Reduction
Reduces current equipment maintenance expenditures by at least 30%. All new IT equipment added on or after December 31, 2019, will receive a 31% discount.
Singular Contract
Consolidates all of your current service contracts into one comprehensive program, eliminating the high costs and inefficiencies of administering multiple equipment maintenance contracts.
Choice of Service Vendor
We work with national and local service companies and will dispatch your preferred service provider. This gives you the ability to choose your preferred service providers based on responsiveness and quality of service. This ensures that you are receiving the highest level of maintenance service.
Service Management System
You are provided a toll free number to place service requests. We manage your service request from start to finish ensuring that your equipment is serviced in a timely manner.
Online Management Reports via Remi Online
Online reports enable you to easily access information such as equipment inventory, repair history, equipment performance, and service provider performance.
Guaranteed Budget
Protects your maintenance budget by providing a "capped cost" solution.
Typical Situation
Most organizations purchase maintenance contracts from various equipment manufacturers or authorized service providers in the event that maintenance service is needed on the many types of equipment that have been purchased for the organization.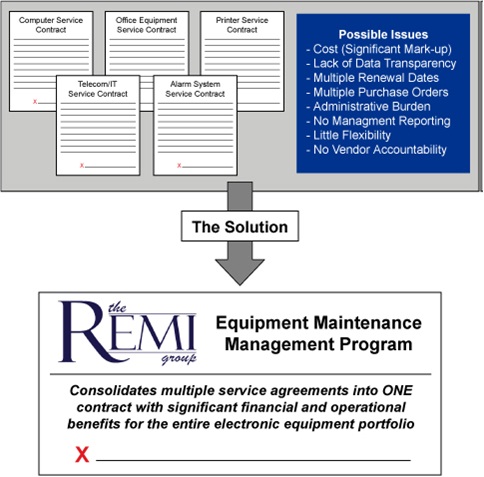 How to receive a quote
Existing Maintenance Contracts
Send copies of your existing maintenance contracts to Kristen Childers at contracts@theremigroup.com.
No Maintenance Contracts
Download and fill in this pre-formatted template (Excel) for the equipment that you would like quoted.
Email Kristen Childers at contracts@theremigroup.com.
Receiving Your Quote
You should expect to receive your quote within 7 business days depending upon the size and the number of equipment items included in your quote.
Your Account Services Representative will email you a soft copy of your quote.
A Program Manager will follow-up with you to review your quote and answer any questions.
A Program Manager may schedule a face-to-face meeting to review your quote, answer questions and review the implementation guidelines with you.
Account Management
The Remi Group Contact(s)
Customer Service (Quotations, Billing, Questions)
888-728-2151
customerservice@theremigroup.com
Dispatch Service
(866) 296-4847
Dispatch@theremigroup.com
Kristen Childers
Contract Manager
(704) 602-0833
contracts@theremigroup.com
State Contact
Kelsie Baire
Vendor Management- Procurement Division
(317) 234-2142
kbaire1@idoa.in.gov
Important Resources