Indiana Department of Administration Vendor Fair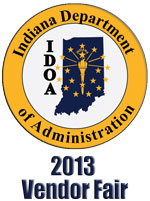 On Thursday, October 31st, the Indiana Department of Administration (IDOA) will host the 3rd Annual IDOA Vendor Fair, representing the state's various Quantity Purchase Agreements (QPAs) from multiple industries. Representatives from state agencies, K-12, higher education, cities, towns, counties and other local government entities are invited to participate in the fair.
This vendor fair will have over 30 state vendors represented, in addition to workshops throughout the day. Please continue to check back for more details throughout the coming months.
EVENT DETAILS

| | |
| --- | --- |
| When: | Thursday, October 31, 2013 |
| Where: | Indiana Government Center South Conference Center, Indianapolis |
| Time: | 9 a.m. - 2 p.m. |
| Cost: | Free |
COMING SOON: Attendee Registration

COMING SOON: Vendor Fair Schedule

COMING SOON: Workshop Details
Information for Exhibitors
Attention Vendors, partnered with the State on a current QPA, please click on the links below to register and/or obtain information about the event:
COMING SOON: Event Registration: Attention State of Indiana Vendors, please click on this link to register for the 2013 IDOA Vendor Fair event by August 31, 2013. There is no cost for booth space at this event. Space is limited in the Conference Center so time is of the essence.

COMING SOON: October 31st Information Guide: This guide shall provide information about, but not limited to, set-up, security, check-in, parking, schedule, etc.
Contact Information