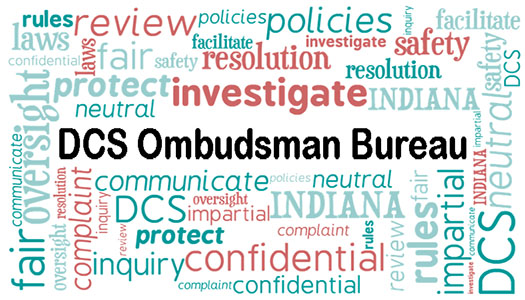 The DCS Ombudsman Bureau was created in 2009 by the Indiana State Legislature. The Bureau has the authority to receive, investigate and attempt to resolve complaints concerning the actions of the Department of Child Services (DCS) and to make recommendations to improve the child welfare system. The Bureau operates independently of DCS and is housed in the Department of Administration.
DCS Ombudsman Information Line
877-682-0101 - Toll Free
317-232-3154 - Fax
DCSOmbudsman@idoa.in.gov
DCS Ombudsman Staff
File a Complaint
Before filing a formal complaint, the DCS Ombudsman Bureau requires that complainants attempt to address their issues at the local level, by contacting the appropriate family case manager, the family case manager supervisor, the division manager, and the local office director. Also, please review the Mission Statement, DCS Ombudsman Procedures and Rules of Engagement links provided below. To file a complaint online, click on the link below. To submit a paper form, download the pdf version of the Complaint Form below and mail to the address on the form.
Outreach
Organizations interested in learning more about the DCS Ombudsman Bureau may request a 30 minute on-site presentation. The presentation will include information about:
The role and authority of the DCS Ombudsman Bureau
What happens when a complaint is filed
The investigative and review process
What outcomes can be expected from an investigation
Please send your requests to DCSOmbudsman@idoa.in.gov or call 877-682-0101. Requests for presentations should include contact information, the event details, the anticipated number of attendees, the name of the organization, and a little background information about the organization requesting the presentation.
Links
For additional information concerning DCS Ombudsman Bureau operations, click on the topics below.
DCSO in the News