Summary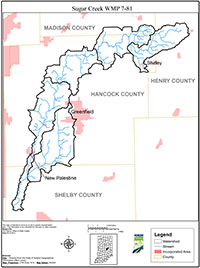 Click to Enlarge
Sugar Creek has its origins in west central Henry County and flows west into Madison and Hancock Counties. Sugar Creek then turns south and flows through Hancock County into Shelby County where it is joined by Buck Creek. Some of the cities and towns located in the Sugar Creek Watershed include: Greenfield, New Palestine, Eden, Philadelphia, Spring Lake, Carrolton, Wilkinson, Mohawk, Maxwell and Nashville.
The Watershed encompasses approximately 84,750 acres of mixed land use consisting mainly of row crop agriculture and pasture. Approximately 92 linear miles of cumulative waterways are contained in the Sugar Creek Watershed. The majority of the Watershed (79%) is located within Hancock County, which is the third fastest growing county in the State.
The Hancock County Soil and Water Conservation District (SWCD) is responsible for the conservation and development of soil, water and related natural resources throughout Hancock County. To help accomplish this goal, the SWCD applied for and received an Environmental Protection Agency Section 319 watershed planning grant through the Indiana Department of Environmental Management (IDEM) to study the Sugar Creek Watershed and develop a management plan (WMP) that would evaluate the present state of the resource, and provide guidance on how to improve and protect this fundamental aspect of their community. A Steering Committee of stakeholders within the watershed was organized to work with the Hancock County SWCD to develop and implement the WMP.
The Sugar Creek WMP is intended as a guide for the protection and enhancement of the environment and quality of the Sugar Creek Watershed while balancing the different uses and demands of the community on this natural resource. These goals address items such as: education and outreach; increasing preservation, restoration and protection of this vital system; increasing cooperation, coordination and collaboration among all stakeholders in the Watershed; and building and maintaining a solid organization to look to the welfare of this important natural resource.
The Complete Sugar Creek Watershed Management Plan