IDEM offices are open Monday through Friday from 8:15 AM to 4:45 PM, except on state holidays.
Indianapolis Offices
IDEM Central Office:
Indiana Department of Environmental Management
Indiana Government Center North
100 North Senate Avenue
Indianapolis, IN 46204-2251
All visitors to Indiana Government Center North should enter through the public entrance on the south side. Visitors must sign in at the reception area of the IDEM floor they are visiting. They will receive a badge that must be worn above the waist and visible. IDEM staff members will escort visitors throughout IDEM office spaces. Parking information is available on the Indiana Department of Administration's website.
IDEM Shadeland Office:
Indiana Department of Environmental Management
Western Select Building
2525 North Shadeland Avenue
Indianapolis, IN 46219
The IDEM Shadeland Office houses:
Office of Air Quality - Air Monitoring Branch
Office of Land Quality - Emergency Response Section
Office of Water Quality - Watershed Assessment and Planning Branch
Regional Offices

IDEM Central and Regional Offices Service Areas Map
IDEM Northern Regional Office
300 North Dr. Martin Luther King Jr. Boulevard, Suite 450
South Bend, IN 46601-1295
IDEM Northwest Regional Office
330 West US Highway 30, Suite F
Valparaiso, IN 46385
IDEM Southeast Regional Office
820 West Sweet Street
Brownstown, IN 47220-9557
IDEM Southwest Regional Office
114 South 7th Street
P.O. Box 128
Petersburg, IN 47567-0128
The IDEM Regional Offices page provides details about regional office programs.
IDEM Press Contacts
IDEM's Media Relations staff helps reporters and editors track down information, arrange interviews, and provide background information on agency work. To reach the public information officer on call, contact (317) 232-8596 or email media@idem.IN.gov.
Media Relations Staff:
General IDEM Information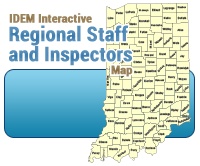 IDEM Interactive Regional Staff and Inspectors Map