Hoosier Women at Work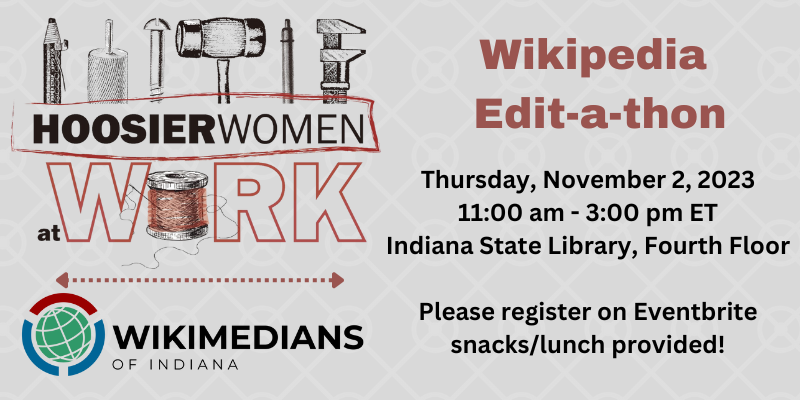 Hoosier Women at Work Wikipedia Edit-a-thon
Thursday, November 2, 2023
11:00 a.m. – 3:00 p.m.
Indiana State Library, Fourth Floor
Register now via Eventbrite.
Attention historians, citizen historians, librarians, archivists, teachers, students and museum professionals! We all wish more people would use digitized research and collections from reliable sources. So, let's meet people where they are — Wikipedia — and connect them to great research on Hoosier women.
Colleagues, adding images from your organization's collections into Wikipedia will increase traffic to your website, accessibility to your collections, and grow your audience.
Join us and you'll also help address the dearth of information on women's history online, which perpetuates the marginalization of the field. In fact, only 19% percent of articles on Wiki are about women and those are disproportionately deleted by Wiki editors. But we can help correct this gender bias.
No experience needed! Expert Wikimedians will be on hand to help you get started.
Already have some Wiki experience? Great! Help us improve article stubs and write new articles on significant women in Hoosier history. We have a list of suggestions on the Wikipedia event page, but feel free to bring your own ideas.
Pizza and drinks will be provided courtesy of the Indiana Women's History Association.
Questions? Email Jill Weiss Simins: jweiss@library.IN.gov
Sponsors: Indiana Historical Bureau, Indiana State Library, IUPUI, Wikimedia, Wikipedia, National Archives, Indiana Women's History Association, Crown Hill Heritage Foundation
---
Making Women's History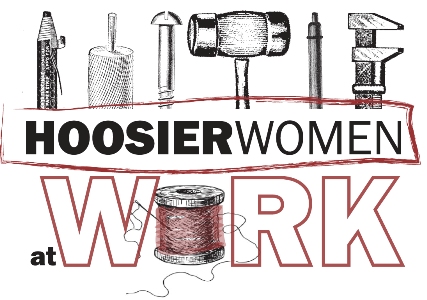 Why Indiana Women's History?
. . . because, with few exceptions, women have been consistently left out of the story of the Hoosier state. On paper, historians agree that including the histories of women and other marginalized groups provides a more complete understanding of the events that shape our communities, state, and world. However, in practice, very few historians are researching, publishing, or posting on women's history. Having identified a dearth of resources on Indiana women's history, organizers from various institutions, both public and private, came together to create this annual conference. Hoosier Women at Work aims to energize the discussion of Indiana women's history and make the papers, presentations, and other resources resulting from the conference available to all Hoosiers. READ MORE!