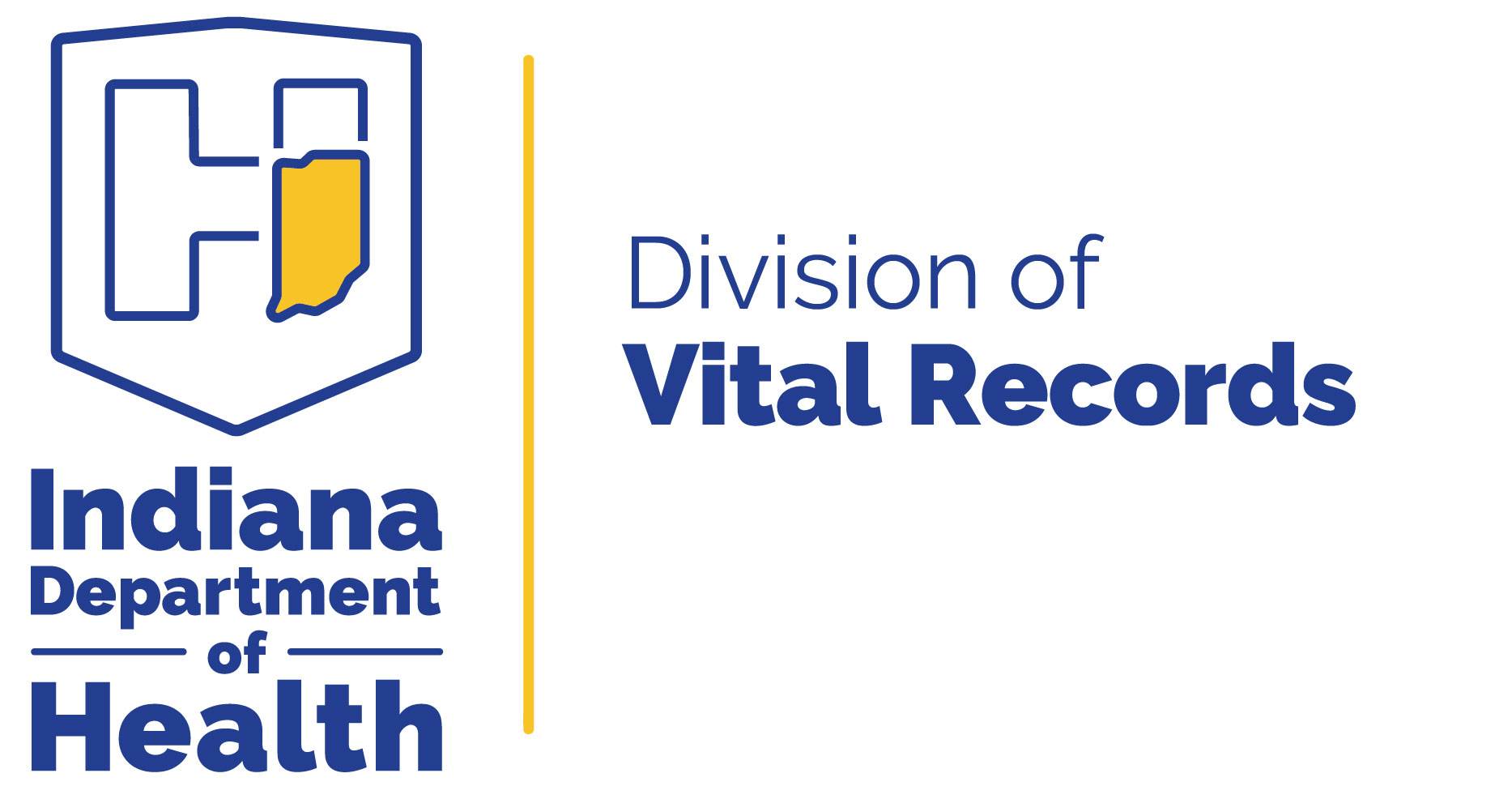 Attention Customers:
For faster service, place your order through the local health department where the event occurred. View local health department information here.
IDOH Vital Records does not offer a walk-in service. Please contact your local health department (LHD) in the county where the event occurred to obtain their individual walk-in hours. Visit the Local Health Department Contacts page for LHD contact information, including links to local web pages, when available.
Order Certificates
Need to place a birth or death certificate order?
Order Now
Submit Help Desk Ticket
Need assistance regarding an order?
Submit Ticket
About the Division
The Indiana Department of Health Division of Vital Records is responsible for maintaining and issuing certified copies of vital records, including birth, death, and fetal death certificates for events that occurred in Indiana. The office of Vital Records officially began recording births in 1907, and death recordings began in 1900.
Services
Paternity Acknowledgments
How to Apply
Local Health Department (LHD) 

Walk-Up Service

Quick and convenient
Must be the county where the event occurred
For LHD contact information, visit the Local Health Department Contacts page

IDOH Vital Records 

Mail 

Allows payment via check or money order. To apply for a birth certificate, print Form 49607. To apply for a death certificate, print Form 49606

Phone 

Purchase can be made 24/7 at toll free (866) 601-0891

Online 

Purchase goes through VitalChek using a credit card
Direct Interest
Relationship to Individual Listed on Certificate 
What is Required 
Parent 
Be listed on the record
Grandparent 
Show proof of relationship as the parent of a parent listed on the record
Sibling (18 years or older) 
Show proof of relationship
Child or Grandchild (18 years or older) 
Show proof of relationship
Current spouse 
Show proof of marriage
Aunt or Uncle 
Show proof of relationship
Stepparent 
Show both

ID
Valid marriage certificate

Court-Appointed Legal Guardian 
Show both

ID
Guardianship papers with seal

Attorney 
Show both

ID
A document with direct interest spelled out on letterhead or court documents

Genealogy 
Show proof of death
Note: Individual named on the certificate must be over 75 years old and deceased
Social Agency 
Show both

Work ID
Court documents or signed authorization from the client

State and Federal Agencies 
Show both

Work ID
A document with direct interest spelled out on letterhead, court documents, or signed authorization from the client
Accepted Primary Documents (1 required)
| Form of Identification | Requirements |
| --- | --- |
| Government Issued Driver's License or State ID | Front and back of document |
| US Military ID | Front and back of document |
| Passport | |
| Veterans ID | |
| Green Mexico Consular ID | |
Accepted Secondary Documents (2 required)
| Form of Identification | Requirements |
| --- | --- |
| Social Security Card | Must be signed |
| Department of Correction ID Card or Printout | Must include a picture |
| College School ID | Must provide proof of current enrollment (transcript or letter from administration) |
| Work ID Badge | Must provide proof of current employment (computerized paycheck stub or letter from employer) |
| Voter Registration Card | Must include name and current address |
| Current Vehicle Registration | Must include name and current address (Note: not Title of Ownership) |
| Military Discharge (DD-214) | |
| Home Lease, Rental Agreement, or Warranty Deed | Must include name, current address, and signature(s) |
Fee Schedule
| Birth Records | Fees |
| --- | --- |
| Birth Certificate | $ 10.00 |
| Additional Birth Certificates in the Same Order | $ 4.00 |
| Delayed Birth Registration | $ 10.00 |
| Amendment / Correction on a Birth Certificate | $ 8.00 |
| Death Records | Fees |
| Death Certificate | $ 8.00 |
| Additional Death Certificates in the Same Order | $ 4.00 |
| Other | Fees |
| Copy of Signed Paternity Affidavit | $ 8.00 |
| Putative Father Registry Search | $ 16.00 |
| Adoptive Medical History Search | $ 25.00 |