Harry and David-4 oz Harry & David Giant Cashews
From the information provided by FDA, the recalled products were distributed in the State of Indiana. The recalled products were distributed through Harry and David stores. The recalled products have been pulled of the shelf at both the Harry and David stores one in Edinburgh and the other in Michigan City. Information provided in case of consumer inquires.
---
Harry and David
Mr. Bill Ihle EVP, Corporate Relations
541 864-2145 (Media Calls Only)
HARRY AND DAVID ISSUES NATIONWIDE ALLERGY ALERT ON UNDECLARED PEANUTS AND OTHER NUTS IN HARRY & DAVID GIANT CASHEWS.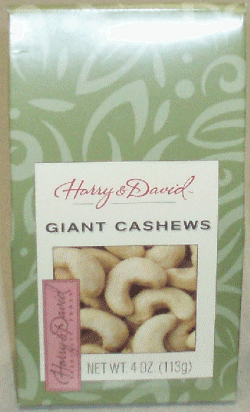 Harry and David, of Medford, Oregon, is voluntarily recalling approximately 2130 boxes of 4 oz. Harry & David Giant Cashews because they may contain mixed nuts, including peanuts, almonds, pecans and Brazil nuts not declared on the ingredient statement. People who have an allergy or severe sensitivity to these ingredients (peanuts, almonds, pecans and/or Brazil nuts) run the risk of serious or life-threatening allergic reaction if they consume these products.
The affected product was distributed throughout the United States only through Harry and David Stores beginning 11/16/07.
Harry and David is recalling all 4 oz. boxes of Giant Cashews with lot codes 2507 MSL 15:00 through 2507 MSL 18:00 and a use by date of 6/28/08. The lot code and use by date are ink jetted on the bottom of the box. Affected boxes also can be recognized by the price sticker on the bottom, or lower portion of the back, of the box. The price sticker states "Nuts Mixed Nuts Box 4oz". These products are packaged in 4 oz. paperboard boxes with bags of metalized film containing nuts inside. The boxes are olive green with a pale green design in the background.
There have been no illnesses or injuries reported to date. Anyone concerned about an illness/injury should contact a physician immediately.
This problem occurred during a product changeover when packaging for cashews was comingled with packaging for the mixed nuts.
Consumers with product may return it to the any Harry and David retail store for a full refund. Consumers with questions about the recalled product may phone the Harry and David Customer Service division at 800-233-1101, 24 hours a day