Fish Consumption Guidelines
Click here to view the Fish Consumption Guidelines Map: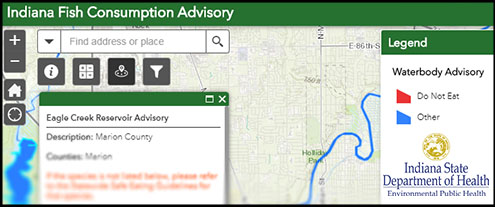 About Fish Consumption and the Indiana Fish Consumption Guidelines
Fish is a lean protein that is a good source of omega-3 fatty acids. However, some fish contain chemicals at levels that may be harmful to human health. The Indiana Fish Consumption Guidelines are a set of recommendations for the consumption of recreationally caught fish from Indiana public waters created by the Indiana Department of Health, Indiana Department of Environmental Management, and Indiana Department of Natural Resources. Commercial fish, which is fish served at restaurants and bought at the grocery store, is not covered in the Fish Consumption Guidelines. More information about the safe consumption of commercial fish can be found at the Commercial Fish link below.
If the waterbody you are fishing does not have specific guidelines or the guidelines do not include the fish species you plan to eat, use the Indiana Statewide Safe Eating Guidelines for the Sensitive Population or General Population.
In 2019, fish consumption guidelines were issued for Little Deer Creek and Government Ditch in Cass County and Big Lick Creek and Little Lick Creek in Blackford County guided by Perfluorooctane Sulfonate (PFOS), a PFAS chemical. More information on PFAS and fish can be found here and PFAS and health here.