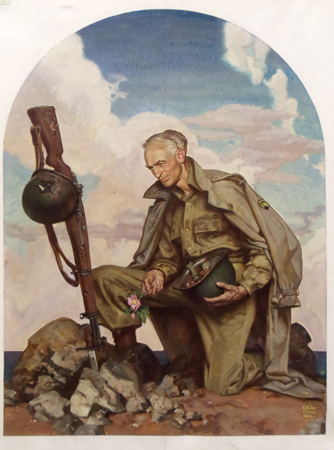 Journalist
Born in 1900 on a small farm near Dana, Indiana and educated at Indiana University, Ernie Pyle was one of America's most widely-read reporters and one of Indiana's greatest storytellers. Progressing from local reporter in LaPorte to national columnist in Washington, D.C., he became America's first aviation journalist and then a roving reporter for the Scripps news service.
Before the World War II, Ernie Pyle traveled the country for seven years and authored stories for his daily column. In 1940 he set off for Europe and quickly developed into America's most popular wartime writer. He covered America's involvement in the war from the frontlines in North Africa, Sicily, Italy and France. After his stint in the European theater, Pyle accepted an assignment in the Pacific. He was killed by sniper fire in April 1945 on the Japanese island of Ie Shima.
Featured in 400 daily newspapers, his columns celebrated the bravery and resoluteness of the American soldier. His vivid and accessible writing brought the realities of the war into countless homes. He was awarded a Pulitzer Prize in 1944.
The portrait of Pyle was painted by Dean Cornwell and is on loan from the Indiana University Campus Art Collection. It replaces the portrait of Wes Montgomery.