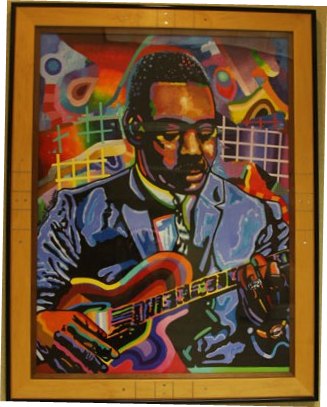 Jazz Guitarist
Born in Indiana in 1923, John Leslie "Wes" Montgomery is widely considered to be one of the most influential jazz guitarists in the history of the genre. A self-taught musician, Montgomery learned by studying guitarist Charlie Christian. He collaborated with many famous jazz musicians during his career, including a two-year tour with Lionel Hampton in 1948. Montgomery was nominated for several Grammy awards, winning two. A number of legendary guitarists, including Jimi Hendrix, Stevie Ray Vaughn and Joe Pete Townshend have pointed to Montgomery as a great influence.
Montgomery died of a sudden heart attack at the height of his popularity in 1968. In 1970, the City of Indianapolis named a park in his honor; "Wes Mont" park is located on North Hawthorne Lane.
The portrait, painted in 1990 by Joel Washington, is on loan from the Indiana University Art Museum's Indiana Memorial Union collection in Bloomington. It replaces the portrait of Virgil I. "Gus" Grissom in the gallery.