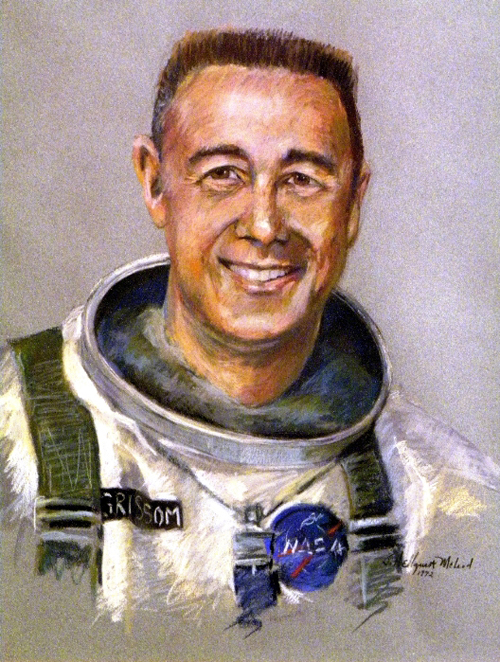 Virgil I. "Gus" Grissom was born on April 3, 1926 in Mitchell, Indiana, the oldest of four children. In 1944, he graduated from Mitchell High School. Motivated by a strong interest in technology and aircraft construction, he completed one year of pre-cadet training in the U.S. Army Air Corps. Grissom was inducted into the Air Corps in August 1944 and discharged in November with the rank of corporal. He went on to study at Purdue University, graduating in February 1950, with a degree in mechanical engineering.
He joined the United States Air Force and was commissioned a second lieutenant in March 1951. In December of that year, Grissom was deployed to fight in the Korean War. Grissom flew 100 missions with the 334th Fighter Interceptor Squadron in less than six months, and received the Distinguished Flying Cross and the Air Medal.
In April 1959, NASA announced the selection of the country's first seven astronauts. Grissom was part of the elite group that would become known as the "Mercury 7." The goal of Project Mercury was to place a manned spacecraft in orbit and return that spacecraft safely to earth.
As part of Project Mercury, Grissom became America's second man in space on July 21, 1961, in a capsule named the "Liberty Bell 7." A successful flight was followed by a dramatic ending when the capsule was lost at sea after splashdown. Although Grissom himself was safely retrieved from the water, the mishap forced NASA to rethink its recovery techniques.
Grissom's next assignment was to oversee the design, and then to command the first manned mission of the Gemini program. The two primary goals of the Gemini program were to launch a two-man capsule designed to maneuver and work in space, and to test plans, techniques and equipment needed for a landing on the moon.
On March 23, 1965, the Gemini III launched with Grissom at the helm. The flight lasted five hours and flew nearly 81,000 miles around the earth, completing three orbits.
In February 1966, Grissom, Ed White, and Roger Chaffee were chosen as the crew for the Apollo I mission to the moon. On January 27, 1967, during a test on the launch pad, a flash fire broke out inside the command module. Grissom, White, and Chaffee were trapped inside, unable to escape the blaze.
Grissom is buried at Arlington National Cemetery.