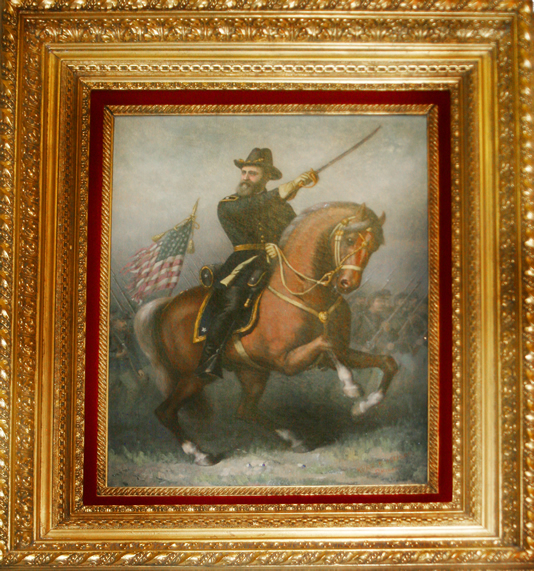 Benjamin Harrison (1833-1901) was born in North Bend, Ohio, near Cincinnati. He initially attended Farmers College in Cincinnati but transferred to Miami University in Oxford, Ohio and graduated on June 24, 1852, at age 19. Harrison married Caroline Scott in 1853 and the couple moved to Indianapolis in 1854.
In 1855, he helped form a law partnership in Indianapolis. Shortly thereafter, Harrison was elected to the position of City Attorney and later Supreme Court Reporter.
Harrison's law career was interrupted by the Civil War, which he joined in 1862. Harrison rose through the ranks of the Union Army and by the end of the war was a Brevetted Brigadier General. He preferred the title of general in later years over President, saying that he risked much more to gain the title of general.
Harrison resumed his law career at the conclusion of the war, and in 1881 he was elected by the Indiana General Assembly to the United States Senate. While Senator, he argued six cases before the Supreme Court.
Harrison was elected the 23rd president in 1888 and served from 1889-1893. He remains the only United States President elected from the State of Indiana. As President, Harrison set aside more than 13 million acres of land for National Forest Reserves and opened our second, third, and fourth national parks (Sequoia, General Grant, and Yosemite). He expanded the size of the Navy from 20th in the world to 5th, added six states to the Union, and established the Bureau of Immigration.
After losing his bid for re-election, Harrison returned to Indianapolis and resumed his law practice, arguing his final case before the Indiana Supreme Court in 1900.
President Benjamin Harrison died March 13, 1901, from complications of pneumonia and is buried at Crown Hill Cemetery in Indianapolis.