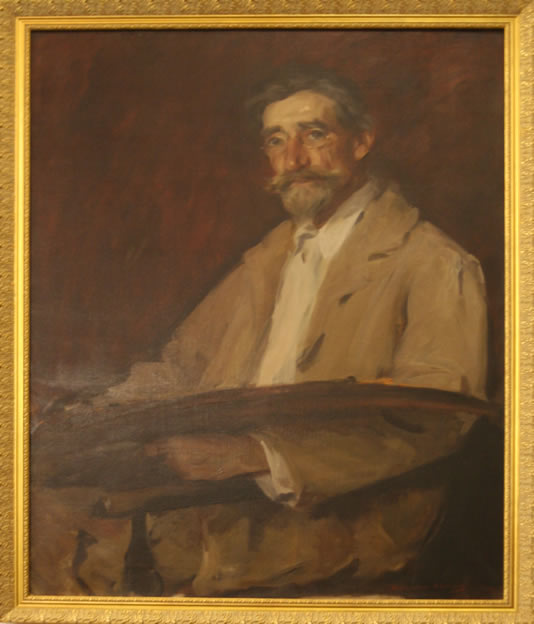 T.C. Steele (1847-1926) was an American Impressionist painter known for his Indiana landscapes and a member of the renowned Hoosier Group. Steele was born in Owen County, Indiana and later moved to Indianapolis. He studied at the Royal Academy in Munich, Germany from 1880 to 1885, when he returned to make his living primarily from painting portraits. His passion for landscape painting, however, inspired travel throughout southern Indiana and the purchase in 1898 of a studio-home in Brookville. rtist J. Ottis Adams. Steele was a member of the renowned Hoosier Group along with J. Ottis Adams, Richard Gruelle, Otto Stark and William Forsyth.
After the death of his first wife, Mary Elizabeth Lakin, in 1899 and the marriages of his three children, Steele moved to Brown County with his second wife, Selma Neubacher. There he concentrated on painting the hills and hollows of the rural country and his presence helped to attract a group of artists who became known as the Brown County Art Colony.
For the purpose of studying Steele's work, his paintings can be categorized into three main time periods, including the Munich period (1880 – 1885); Brookville period (1898 – 1906) and Brown County period (1907 – 1926). During the time between Munich and Brookville, Steele painted near Indianapolis or on sojourns to Vernon, Yountsville, Spencer and Metamora. He also painted in Vermont (1887), Tennessee (1899), and Oregon and California (1902 and 1903).