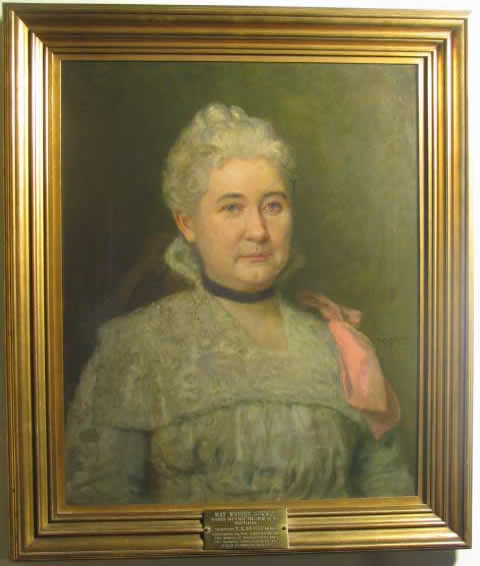 May Wright Sewall: Although best known as one of the key leaders in the women's suffrage movement - in Indiana and nationally - May Wright Sewall earned her role as a significant Hoosier in multiple realms. She was an important educator. She was a leader in the area of civic improvement. And leading up to and surrounding the period of World War I, she was a leader in the peace movement. In the introduction to Sewall's 1920 book, Neither Dead nor Sleeping, Booth Tarkington wrote that the "three most prominent citizens" of Indianapolis in their day were Benjamin Harrison, James Whitcomb Riley and May Wright Sewall.
Born in 1844, Sewall graduated in 1866 from Northwestern Female College (later absorbed by Northwestern University). She received an M.A. degree in 1871. In 1882 she and her husband, Theodore L. Sewall, also a teacher, founded the Girls' Classical School of Indianapolis, with which she was associated for a quarter of a century. During that period she also became widely known for her efforts in the women's rights movement. She was a prominent ally of suffrage leaders Susan B. Anthony and Elizabeth Cady Stanton. She had helped found the Indianapolis Equal Suffrage Society in 1878, and in 1881-83 she led a campaign that narrowly failed to secure woman suffrage in Indiana. From 1882 to 1890 she was chairman of the executive committee of the National Woman Suffrage Association.
In 1888 Sewall and Frances Willard took charge of a convention held in Washington, D.C., to mark the 40th anniversary of the Seneca Falls Convention. From that meeting emerged the National Council of Women (of which Sewall was president in 1897-99) and the International Council of Women, (of which Sewell was president from 1899 to 1904). In 1889 she joined in organizing and was elected first vice president of the General Federation of Women's Clubs. During 1891-92 she traveled extensively in Europe to build support for the World's Congress of Representative Women, of which she was chairman, to be held in conjunction with the World's Columbian Exposition in Chicago in 1893. Sewall's later years were devoted principally to the cause of peace. One of the organizations that she help to found, the Indianapolis Propylaeum continues to this day to honor her memory.