Welcome to NextLevel Jobs Business Services!
We provide services to assist Hoosier businesses in attracting and retaining top talent in our state. Indiana's no cost, NextLevel, business services include but are not limited to the following:
Improving local connectivity through direct business engagement by:

Accessing untapped labor pools
Strategic planning & economic development
Layoff Aversion
Rapid Response / Business downsizing assistance

Developing Department of Labor (DOL) Registered Apprenticeships; Certified State Earn and Learn (SEAL) programs; and other Work-Based Learning as applicable
Providing comprehensive, demand driven data analytics in your area
Providing customizable statewide awareness & connectivity campaign including social media; webinars; virtual job fairs; and website outreach
Promoting job openings nationally via the National Labor Exchange and our statewide job board
Aligning the NextLevel Jobs: Employer Training Grant (Reimbursement)
Business Resource Guide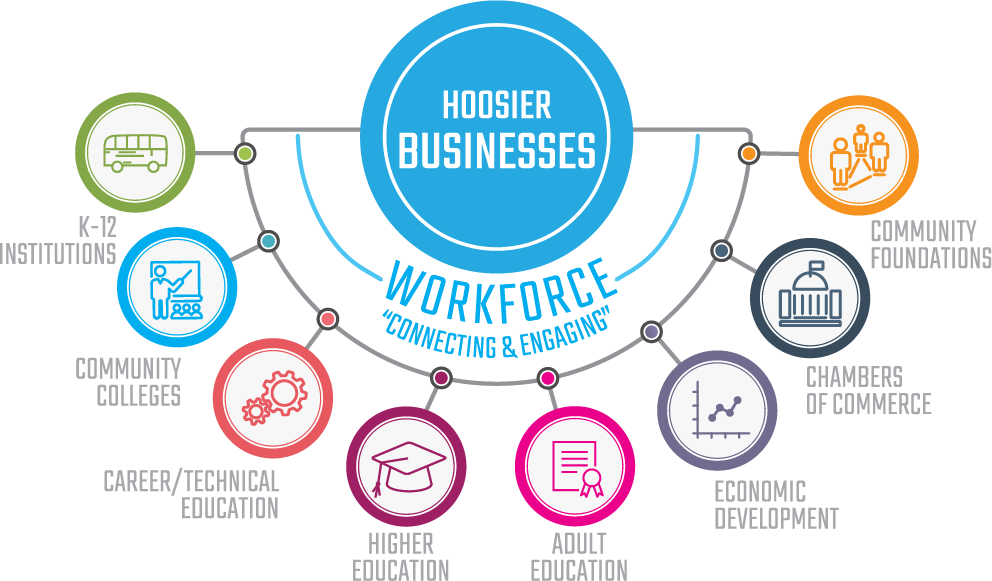 Popular Resources for Businesses
Hire from Specialized Talent Pools
Operation Allies Welcome Aboard- Employer Webinar
DWD is honored to be a part of Operation Allies Welcome! Former Commissioner Payne saw the immediate need for the agency to get involved as employment is one of the key factors for a family to thrive and be self-sufficient. We know how important a talented workforce is to the success of your organization and communities across Indiana. By connecting and engaging, strong, successful partnerships are created! At this point, all 7200 Afghan guests that called Camp Atterbury home have now resettled across the United States. We are excited to welcome 700 new Hoosiers to our communities. Please watch our informational webinar for an overview of traditional resettlement compared to this historic effort from our partners at Exodus.
Connect with your local Workone Business Services team with job descriptions and ongoing recruitment efforts. To be a part of a monthly meeting to discuss your experience employing our new neighbors or to learn best practices as you begin to hire this talent, please reach out to Holly Meyer HMeyer@dwd.IN.gov Thank you!
Additional Business Resources