Recordkeeping and Reporting
Understanding and properly applying these new rules is critical to ensuring your business remains in compliance with the OSHA record keeping standard.
Click here for information about OSHA's new Electronic Reporting and Improved Tracking Rule (2017)!
---
What is the new law?
All businesses, regardless of size or industry category, are required to report a workplace fatality to OSHA within 8 hours – this portion of the rule has not changed.
All business must report an in-patient hospitalization to OSHA within 24 hours – in the past this only applied if three or more employees were hospitalized.
All businesses must report work-related amputations to OSHA within 24 hours – this is a new requirement.
All businesses must report the loss of an eye to OSHA within 24 hours – this is a new requirement.
Why is the law changing?
The new rule will help better ensure OSHA receives critical reports and information on worker fatalities and severe work-related injuries and illnesses. The new data will help OSHA identify workplaces where workers are at greater risk. This information will help target compliance assistance and enforcement resources more appropriately.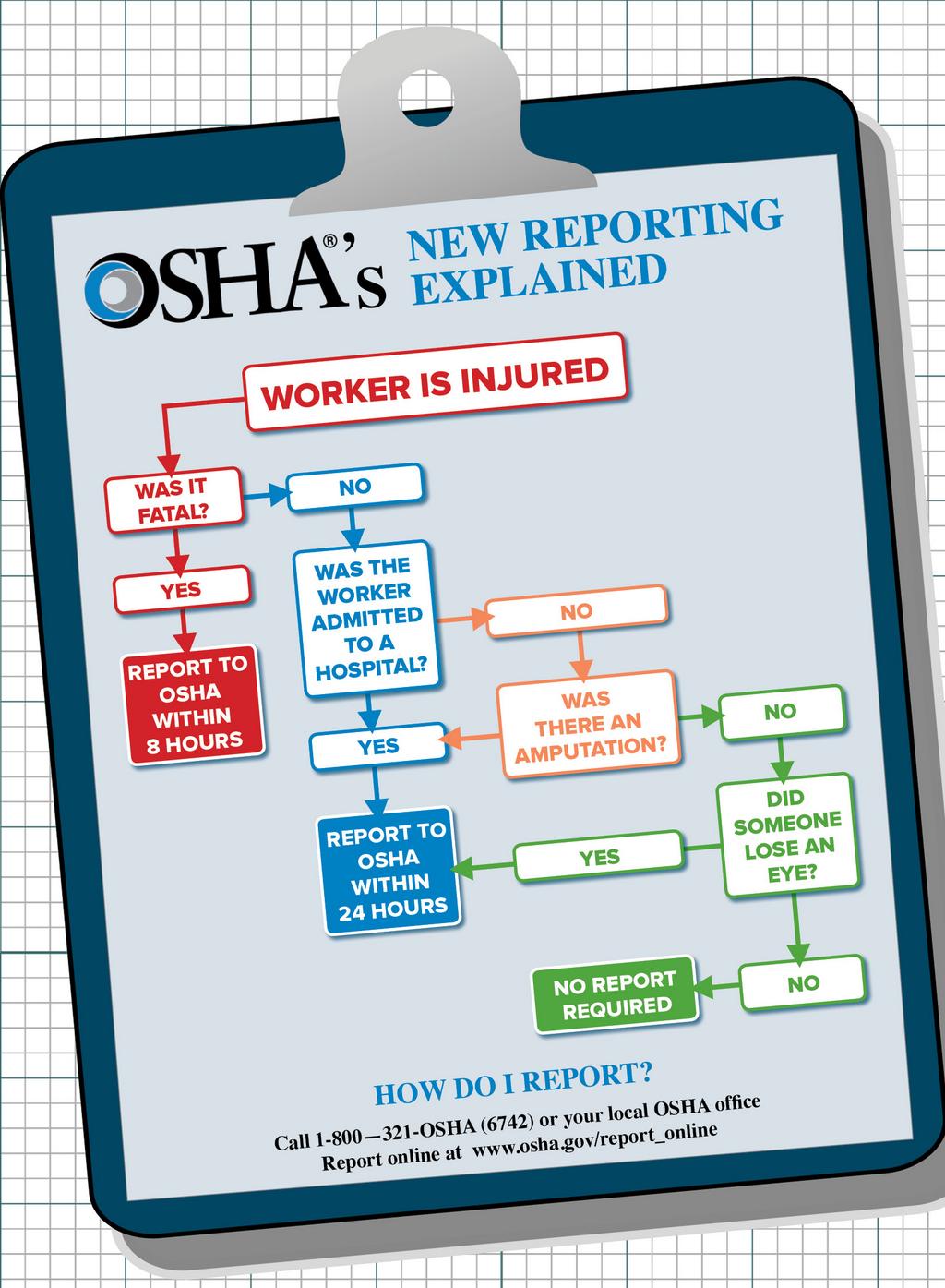 Click to see full size
Do I have to report every hospital visit?
No. If an employee is not admitted or only brought in for observation or testing, and no treatment is provided, that visit does not need to be immediately reported to IOSHA.
What if my business is exempt from maintaining the OSHA 300 Log?
Even if a business is not required to maintain OSHA 300/300A logs, whether that is due to size or being part of a generally exempted industry, that business still must report fatalities, amputations, eye losses and in-patient hospitalizations to IOSHA within the established time frame. Exempt businesses have always been required to make fatality and catastrophe reports to IOSHA, and this new rule occupies the same space.
How do I report an incident?
If it is during normal business hours, you may contact IOSHA directly at (317) 232-2693.
If you are reporting after business hours, call the 24-hour OSHA hotline at 1-800-321-6742.
Who can help me with the new rules?
Help is available by contacting the Indiana Department of Labor's training and assistance division, INSafe, by either calling (317) 232-2688 to speak with a consultant or by emailing insafe@dol.in.gov. Employers may also request a free workplace safety or health consultation from INSafe by completing and submitting the form available online. To learn more about INSafe, click here.
Compliance assistance resources and a list of Frequently Asked Questions (FAQs) may be found at OSHA's 2014 recordkeeping page.