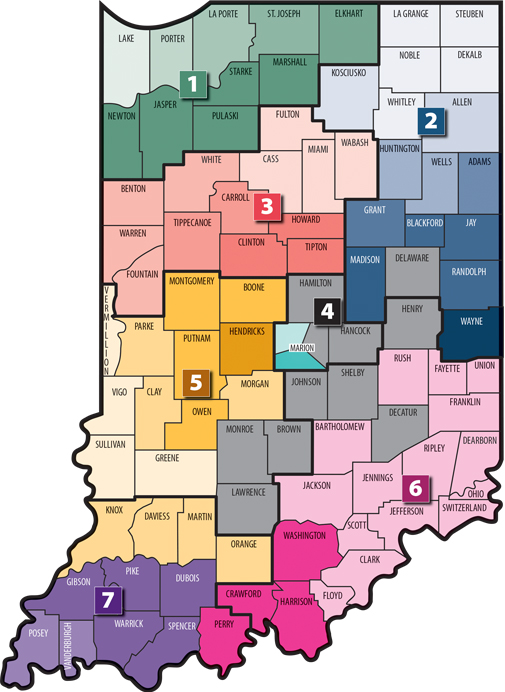 Select your county for information regarding your Healthy Families Indiana office.

Click on image to see map.
DCS Central Office
302 W. Washington St., Indianapolis, IN 46204-2738
Healthy Families Indiana (HFI) is a voluntary evidence-based home visitation program that is designed to promote healthy families and healthy children through a variety of services including child development, access to health care, and parent education. It is also a multi-site statewide system that is administered by the Indiana Department of Child Services. Healthy Families Indiana services are available in all 92 counties, through 31 agencies in 43 sites. Healthy Families Indiana is funded by the Department of Child Services through Temporary Assistance for Needy Families (TANF), Maternal, Infant, Early Childhood Home Visiting (MIECHV), and State funds as well as local funds provided to the HFI sites.
Healthy Families Indiana works closely with health clinics, local hospitals, Indiana WIC offices, Department of Child Services (DCS), and other agencies for family referrals. HFI systematically identifies families that could benefit from education and support services prenatally or immediately after birth. The program is designed to strengthen families to reduce child abuse and neglect, childhood health problems, and juvenile delinquency.
Healthy Families Indiana (HFI) has been in partnership with Healthy Families America (HFA), the national home visitation model, since 1994.
The goals of Healthy Families Indiana are to:
Systematically engage families with multiple stressors in home visiting services prenatally or at birth and sustaining community partnerships

Promote safe environments for children and families

Cultivate and strengthen nurturing parent-child relationships

Promote healthy childhood growth and development through parent engagement

Enhance family functioning by reducing risk and building protective factors for optimal childhood outcomes

Provide staff with the training and support needed for their professional well being
Program accountability is linked to results and continuous improvement as reflected in the Healthy Families Indiana Strategic Plan 2018-2022.
Research over the last two decades has consistently confirmed that providing education and support services to parents around the time of a baby's birth, and continuing for months or years afterwards, significantly reduces the risk of child maltreatment and contributes to positive, healthy child rearing practices. Families receiving this type of intensive home visitor service also show other positive changes such as consistent use of preventive health services, increased high school completion rates, higher employment rates, lower welfare use and fewer pregnancies. (See the Healthy Families America Web site for more information, https://www.healthyfamiliesamerica.org/impact-briefs/)
Healthy Families Indiana provides screening and assessment of families throughout the state. Referral entry points include WIC Programs, health clinics and local hospitals. Parents are screened using a validated 8-Item screen, based on its ability to predict a positive assessment. Positive screens do not assess the risk of child abuse and neglect, but do indicate a need to conduct a more in-depth discussion with the family. Families with positive screens are then assessed using a standard validated instrument, the Parent Survey, by trained family assessment workers. Families with score of 40 or higher are offered the opportunity to participate in a voluntary home visiting program tailored to their individual needs.
All HFI staff, including Family Resource Specialists and Family Support Specialists, Supervisors, and Managers employed by local HFI sites, must complete Core Training within the first six (6) months of employment. All hired HFI staff must complete an orientation program prior to providing services to families and must complete the ongoing trainings required at three (3), six (6), and twelve (12) months following their date of hire, as well as any additional training required by HFA in accordance with Healthy Families America Best Practice Standards.
All Healthy Family sites are guided by the HFA model which is based on twelve research-based critical elements and is committed to demonstrating consistent service implementation and quality including initiation of services, service content, and selection and training of service providers. See the Healthy Families America Web site for more information.
For more information on Maternal, Infant and Early Childhood Home Visiting (MIECHV) funded services in Indiana, visit the Indiana Department of Health website.