The State of Higher Education Address is part of an ongoing public engagement effort designed to promote college completion and increase the education level of all Hoosiers.
2021 State of Education and the Workforce
Thursday, March 11, 2021
7:30 p.m. ET, aired on WFYI
This broadcast was made possible by the support of Indiana Public Broadcasting Stations.
Featuring:
Secretary of Education Dr. Katie Jenner
Indiana Commissioner for Higher Education Teresa Lubbers
Indiana Department of Workforce Development Commissioner Fred Payne
With an introduction by Governor Eric J. Holcomb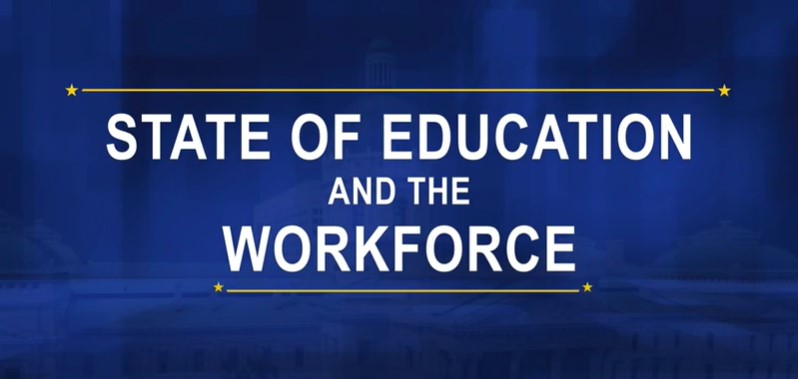 2020 State of Higher Education Address
Tuesday, February 11, 2020
21st Century Scholars Day: 1:00 pm
State of Higher Education Address: 4:00 pm
State House, North Atrium
200 West Washington Street
Indianapolis, Indiana
Questions? events@che.in.gov
---
Monday April 8, 2019: Indiana's 7th Annual State of Higher Education Address (4:00pm (EDT))
Monday April 8, 2019
Address: 4:00 pm
Reception to follow

State House, South Atrium
200 West Washington Street
Indianapolis, Indiana
7th Annual State of Higher Education Address: Full Text
---
April 9, 2018: Indiana's 6th Annual State of Higher Education Address
6th Annual State of Higher Education Address: Full Text
---
February 8, 2017: Indiana's 5th Annual State of Higher Education Address:
5th Annual State of Higher Education Address Full Text
---
April 13, 2016: Indiana's 4th Annual State of Higher Education Address:
---
February 23, 2015: Indiana's 3rd Annual State of Higher Education Address:
---
January 22, 2014: Indiana's 2nd Annual State of Higher Education Address
Press Release: Commissioner renews call to boost college completion during second State of Higher Education address (view)
Speech: 2014 STATE OF HIGHER EDUCATION ADDRESS - Teresa Lubbers, Indiana Commissioner for Higher Education (view)
View the recorded broadcast
---
January 9, 2013: Indiana's inaugural State of Higher Education Address