DUAL CREDIT
Dual Credit - The Indiana Dual Credit Review Subcommittee (IDCRS) of the Statewide Transfer and Articulation Committee (STAC) has established a process for review of dual credit programs offered in liberal arts, professional, or career-technical disciplines in Indiana's high schools. This review process results from legislation passed by the 2008 Indiana General Assembly (HEA 1246), which created the Concurrent Enrollment Partnership, whose work continued in 2009 with the creation of the Indiana Dual Credit Advisory Council by the Education Roundtable. As a result of the work of the council, the Indiana Commission for Higher Education adopted the Policy on Dual Credit Opportunities in Indiana in February 2010.
The Indiana Commission for Higher Education's 2010 policy requires that the state's dual credit programs demonstrate adherence to standards advocated by the National Alliance of Concurrent Enrollment Partnerships (NACEP). NACEP has established standards for courses that are taught by trained high school teachers, in the high schools, to students for both high school and college credit. The IDCRS seeks to meet the needs of Indiana by ensuring that all dual credit programs adhere to standards similar to those advocated by NACEP. This policy applies to high school teachers who teach in a high school setting, but does not apply to college faculty who teach in a high school setting.
EARLY COLLEGE HIGH SCHOOL
Early College High School - Leaders across Indiana have realized that even one student not graduating from high school is too many. In today's competitive world, a high school diploma only serves as a stepping stone in a student's educational journey. Economic prosperity and lifelong success in the 21st century require higher learning for all students. That is why schools across the state are implementing the Early College High School model. Early College ensures that no students are left behind and that every student has the opportunity to realize their full academic potential. Indiana's Early College High Schools are bridging the gap between secondary and postsecondary education so that college becomes a reality for every Hoosier student. The Indiana Commission for Higher Education partners with the Center of Excellence in Leadership for Learning at the University of Indianapolis to endorse early college high schools in Indiana.
INDIANA E-TRANSCRIPT
Indiana E-Transcript is a free service provided to Indiana students and families by the Indiana Commission for Higher Education and the Indiana Department of Education. You can access Indiana e-Transcript 24 hours a day, seven days a week. It's safe and secure. Indiana e-Transcript is FREE and you can send electronic transcripts to ANY destination worldwide.
MULTI-STATE COLLABORATIVE ON MILITARY CREDIT (MCMC)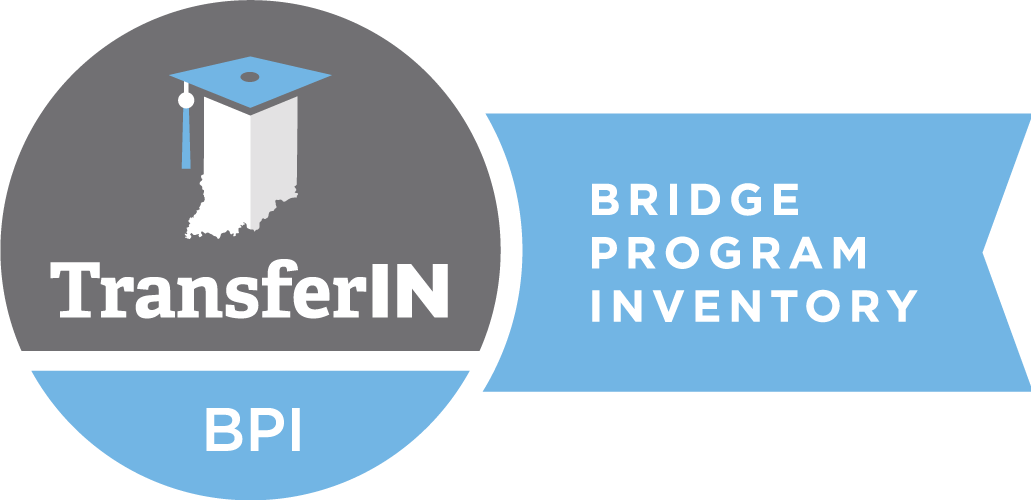 Indiana is involved in a partnership between 13 states to advance best practices designed to ease the transition of veterans and their families from military life to college campuses, with special reference to translating competencies acquired through military training and experiences into milestones toward completing a college degree or earning a certificate or license.
TRANSFER IN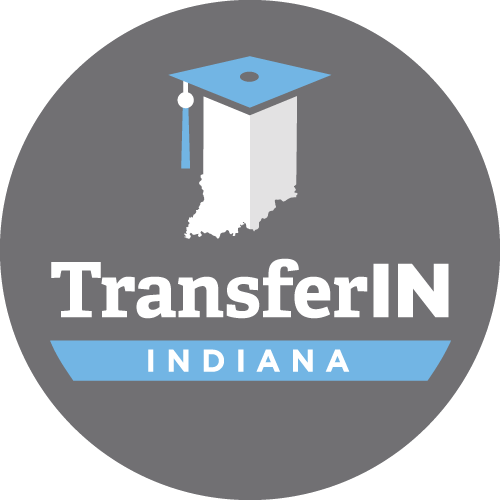 TransferIN.net is a comprehensive source of information on transfer of credit for high school students, college students and advisors/counselors. The site provides general information as well as links to Indiana colleges and universities' admissions and financial aid pages, dual credit, Indiana e-Transcript, military information, steps for transfer, and a glossary of terms to know. It also provides detailed, course-specific transfer information through the Core Transfer Library (CTL), Advanced Placement (AP), Dual Credit, and College-level Examination Program (CLEP) databases.
TRANSFER SINGLE ARTICULATION PATHWAYS (TSAP)
As part of the development of the Statewide Transfer General Education Core, each educational institution, in collaboration with the Commission, was charged with creating a Single Articulation Pathway for each programmatic area and implement the single articulation pathways not later than May 15, 2015, for students entering state educational institutions in the fall of 2015. The areas for development must be in which significant numbers of students first obtain an associate of science or an associate of arts degree with the intent of obtaining a related baccalaureate degree. In September 2013, 11 fields were identified in which to develop single articulation pathways:
Business Administration
Computer Science
Criminal Justice
Early Childhood Education
Education, Elementary
Education, Special
Electrical Engineering Technology
Human Services - Social Work
Information Technology
Mechanical Engineering
Mechanical Engineering Technology
Nursing
Transfer Single Articulation Pathways - Competencies for Fall 2015
Updated Electrical Engineering Technology TSAP Competencies 04/21/2021
Updated Mechanical Engineering Technology TSAP Competencies - 04/21/2021
TSAPs Available Fall 2017:
Biology
Chemistry
Human Services
Psychology
Sociology
Transfer Single Articulation Pathways - Competencies for Fall 2017
TSAPs Available Fall 2018:
Secondary Education - Biology
Secondary Education - Mathematics
Transfer Single Articulation Pathways - Competencies for Fall 2018
TSAPs Available Fall 2019:
Secondary Education - Chemistry
Transfer Single Articulation Pathways - Competencies for Fall 2019
INDIANA COLLEGE CORE
In 2012 the Indiana legislature enacted Senate Enrolled Act 182, thereby establishing the requirements for a Statewide Transfer General Education Core of at least 30 credit hours.
It enables a student who satisfactorily completes an approved program of general education in any one of those institutions to transfer that coursework to any other state educational institution as a block of 30 credit hours towards the general education core requirements.
The Frequently Asked Questions were designed to help students, parents, advisors/counselors, and other stakeholders with STGEC. We always recommend that students work closely with their advisors/counselors to help them make wise choices.
ADDITIONAL RESOURCES