One Agency. One Goal.
Our Mission
Serve all Hoosiers by providing best-in-class driver and vehicle services in a timely and accurate manner while ensuring security and transparency.
A Letter from Our Commissioner
The last year has been marked with many changes. When I joined the agency in May, I was welcomed by a dedicated team focused on providing consistent service to Hoosiers across our great state. The BMV is not new to me, as I served as the agency's General Counsel from 2017 to 2020 so it is no surprise the team's spirit for driving innovation and providing options for how Hoosiers do business with the agency has only grown more urgent.
The trend of transactions shifting out of branches continued in 2022. For the first time since its introduction in 2018, the BMV Connect kiosks processed over a million transactions in one year. Combined with myBMV online transactions, overall volume through these two mediums grew by more than 4%. With these metrics, the agency maintained focus on optimizing branch locations to maximize the use of state resources.
We can't talk about 2022 without talking about the new electronic lien system. As this year's report outlines, the agency launched the system as expected in July. Several service providers are actively engaged in onboarding, and we look forward to processing our first electronic lien transaction in 2023. Not far behind, the team will kickoff the next phase of this project, building out the system to support electronic title process in Indiana.
All of this is only made possible by the incredible team we have across the state. I am grateful for the passion they bring to work each day and am inspired by their drive for continuous change. This year's report highlights their work and their commitment to serving others.
2023 will be an exciting year and we look forward to sharing it with you!
Joe B. Hoage, Commissioner


2022 Key Performance Metrics
The agency remains focused on providing a consistent customer experience through efficient transaction processing across all mediums. These metrics represent key focus areas for the agency and provide insight to consumer behavior. All metrics are displayed as calendar year 2022.
Real ID Conversions
In 2022, the Real ID conversion rate averaged 44%. At year end, 73% of eligible Hoosiers were Real ID compliant. The Real ID deadline is now May 7, 2025.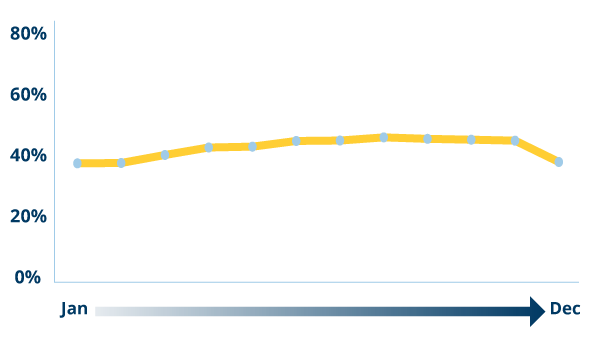 Out of Branch Transactions
The myBMV website and BMV Connect kiosks saw a 3% increase in transactions for 2022 for an average of 46% of all transactions performed outside of a branch.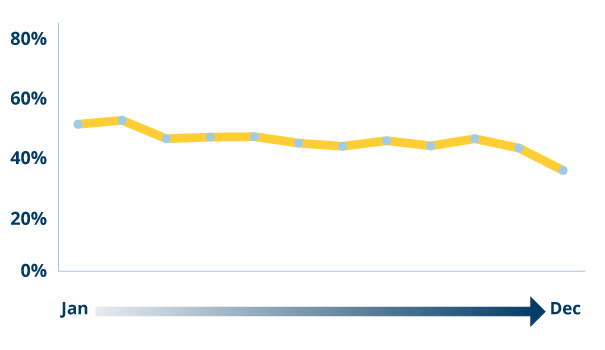 Branch Experience Time
Average branch experience time improved by a little more than 4 seconds in 2022, averaging 14 minutes and 22 seconds with 63% of transactions completed in under 15 minutes.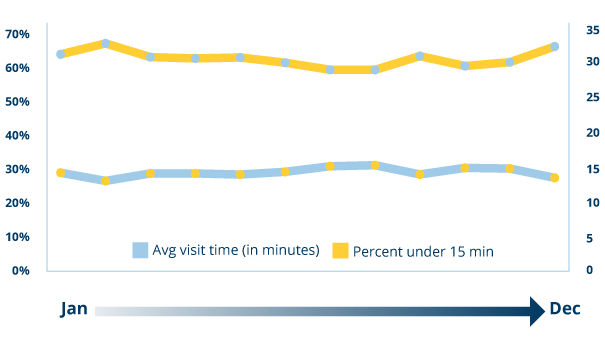 Customer Satisfaction for 2023
Customer Satisfaction is the BMV's ultimate quality measure. The agency aims to deliver best-in-class service to Hoosiers and relies upon their voice to provide feedback.
Customer Satisfaction Rating by Medium
95%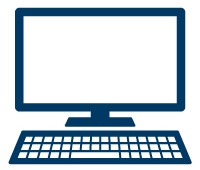 myBMV.com
97%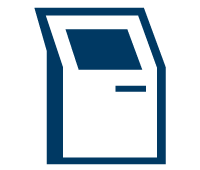 Kiosks
99%
Branches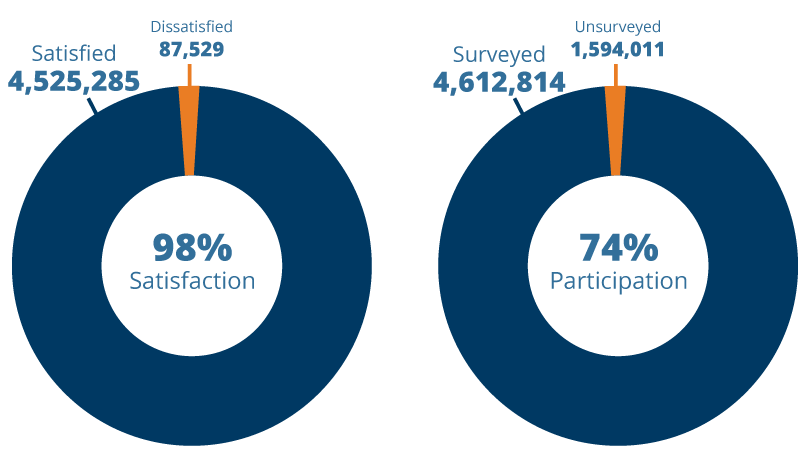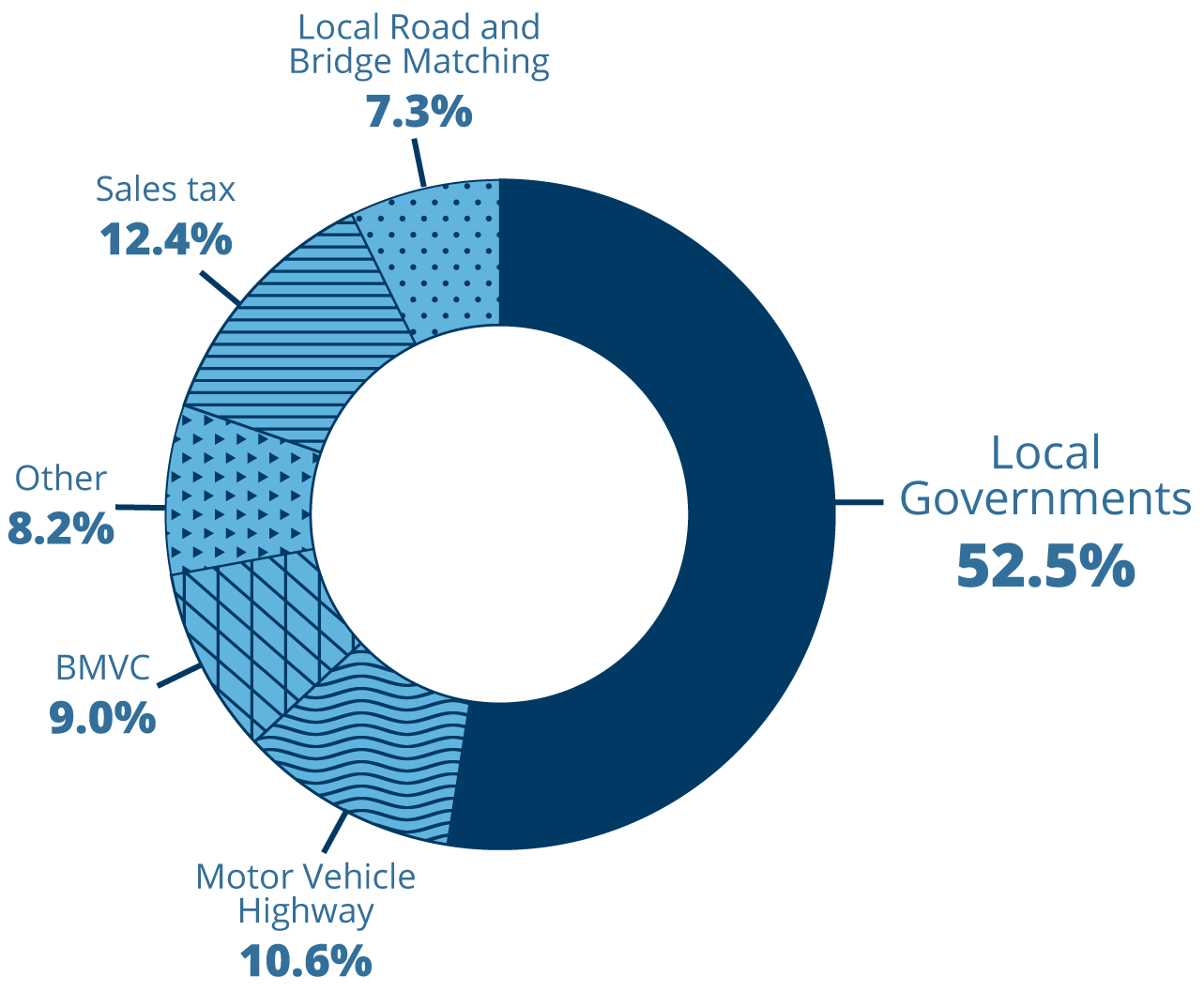 Financials
Total Taxes & Fees Collected in 2022
Total revenues collected by the BMV decreased $50.2 million (-3.5%) in fiscal year (FY) 2022 as compared to the previous FY. The decrease can be primarily attributed to the above average increase in total transaction volume that occurred in FY 2021. In an effort to reduce the spread of COVID during the pandemic, the agency began scheduling temporary branch closures in the last quarter of FY 2020. This initiative resulted in the BMV experiencing a sharp increase in transaction volume in FY 2021 (12.4% over FY 2020) due to the backlog that was created. The decline in FY 2022 reflects revenue returning to normal levels.
Just over 52% of the fees and taxes collected by the agency were distributed back to local municipalities and county governments.
2022: A Year in Review
Fowler branch relocated
Went live with new license plate and registration vendor
January
Indianapolis Michigan Road branch relocated (opening as Indy North) Linton and Sullivan branches optimized
March
Greenfield branch remodel
BMV Night at the Indians Game
June
Electronic lien system launched
New location at the State Fair
July
SECC kickoff Jasper branch relocated Salem branch relocated
September
Monticello branch relocated Indianapolis South Meridian branch relocated (opening as Indy South)
Lafayette relocated
December
Changes to Branch Operations
Changing consumer behavior drove a shift in branch operation in 2022, bringing multiple branch relocations, remodels, openings, and closures. The agency opened a new Indy North branch in 2022, now one of the largest branches in the state. The new branch was an exciting addition in 2022, providing 25 customer service stations, 20 testing stations, four BMV Connect kiosks, increased parking, and seating for more than 100 customers. A branch remodel in Greenfield provided customers with a BMV Connect kiosk, additional testing stations, and a new customer service counter with 11 workstations.
Relocations included Fowler, Lafayette, Michigan Rd., Monticello, Jasper, Salem, and South Meridian. In 2022, the agency also closed the Ameriplex, Danville, Hobart, Nappanee, North Meridian, and West Lafayette branches. These decisions are never easy but were made after engaging with the community, reviewing customer feedback, and analyzing branch activity, while keeping in mind the best use of State resources.
0
Branch Remodel
0
Branch Relocations
0
Branch Closures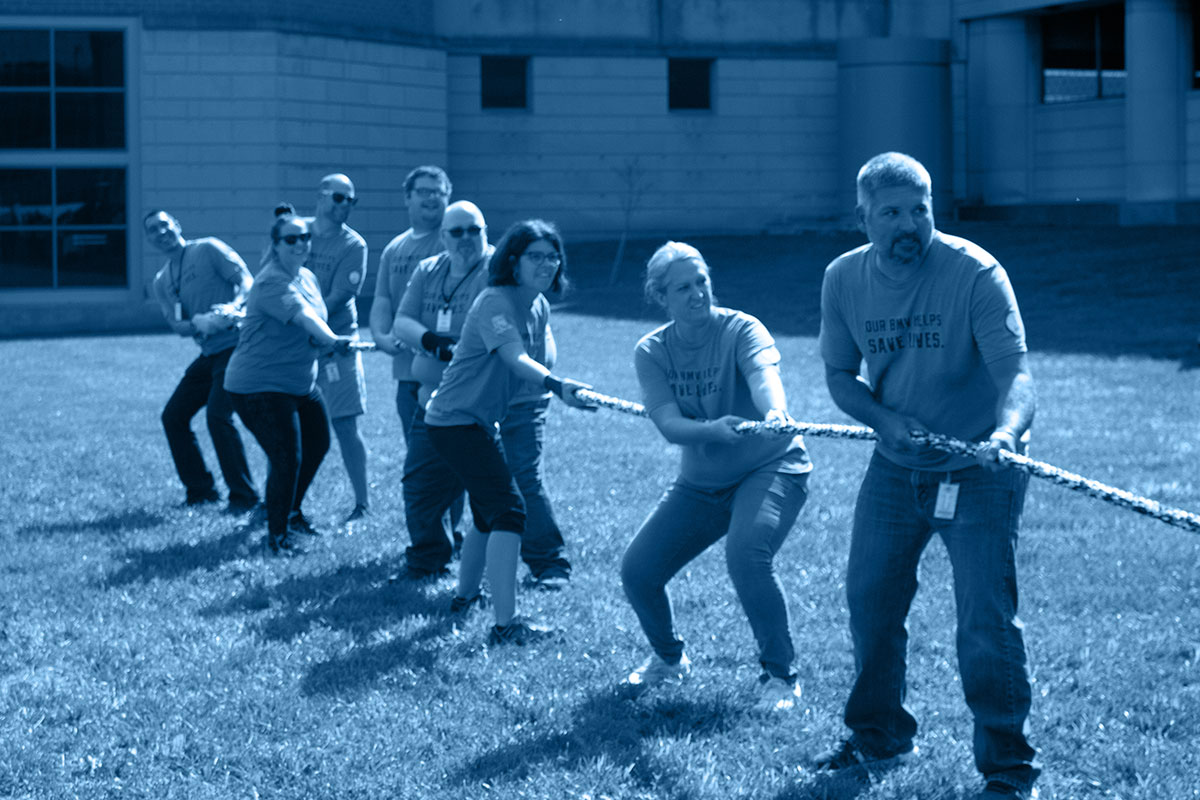 State Employees' Community Campaign
2022 provided another successful SECC season with a calendar full of fun activities for employees. Activities such as Tug of War, Silent Auction, Paddle Battle, and Dunk Tank provided state employees opportunities to support wonderful charities.
The BMV selected the Mighty Mason Fund for Palliative Care as its charity. The Mighty Mason Fund for Palliative Care is named for Mason Garvey, son of BMV Chief of Staff Kevin Garvey. Mason bravely battled pediatric cancer from September 2018 to June 25, 2020.
Through generous donations, the BMV raised a total of $92,457 for SECC, with $18,031 of this allocated to the Mighty Mason Fund.
The BMV Introduces E-lien
Senate Enrolled Act 400 outlined requirements for the Indiana Bureau of Motor Vehicles to develop an Electronic Lien system. Electronic lien, commonly known as E-lien or ELT, allows jurisdictions to issue specific titles in an electronic format rather than printing a title on paper. A dedicated group of BMV staff worked diligently to make this a reality, and the BMV's E-lien System went live on July 1.
Benefits of E-lien include:
Reduced title storage
Reduced risk of fraud
Improved accuracy
Expedited release of lien
No chance of the lienholder losing the title as it will be electronic
Vehicle owners won't have to obtain a paper lien release and pay $15 for a clear title
E-lien is a great step on the way to making the titling process more efficient for our customers.