Ready to add your motorcycle endorsement to your driver's license?
Skip the trip to the BMV and amend your license online using your myBMV account.*
*Please note, some individuals may not be eligible to complete this transaction online. Learn more.
Obtaining a Motorcycle Endorsement
A motorcycle endorsement may be issued to Indiana residents who are:
At least 16 years and 270 days of age, and..
✅ Pass a knowledge exam if the driver's license has been expired for more than 180 days,
✅ Pass a motorcycle knowledge exam based on the Indiana Motorcycle Manual, obtain a motorcycle learner's permit, and pass a motorcycle skills exam with an approved RSI testing provider,
✅ Pass a vision screening or provide Vision Screening Documentation – State Form 56520, and
✅ Have a parent or guardian sign an Agreement of Financial Liability if you are less than 18 years of age.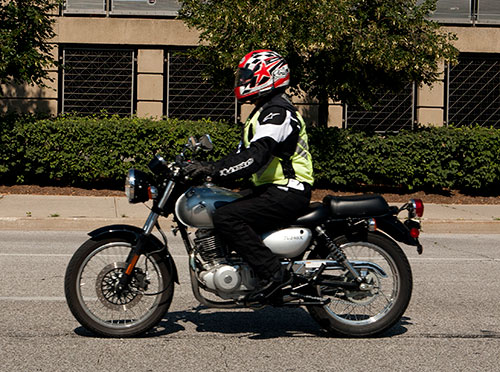 Looking for the highest quality motorcycle safety education?
Ride Safe Indiana offers comprehensive training courses across the state for new and experienced riders to learn how to safely navigate the roads!
Visit the RSI website for more info
Still Have Questions?
Call the BMV Contact Center at 1-888-692-6841, or send us an email about getting a motorcycle endorsement.
Email Us