Extended Hours for Election Day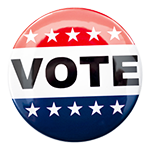 Need a valid license or ID to vote? No problem!
BMV branches will operate special extended business hours for Election Day to issue photo identification for voting purposes.
Your registration renewal is due soon!
Does your last name start with S?
Don't wait for the mail to arrive.
- OR -
Get Email Notifications
Did you know the BMV offers email notification reminders for driver's license and registration renewals?
Sign up for electronic notifications from the BMV through your myBMV account.