By Bridget Eckert (IAC) with Amber Robinson (Office of Career Connections and Talent)
Combining the arts with workforce development programs helps create well-rounded workers who not only have "hard," technical skills in their field, but also have creative thinking skills that foster innovation and drive our global economy.
Workforce development grows economic stability and prosperity by focusing on the skills of the individuals who make our economic engine run. Successful programs focus either on the needs of the people or those of the sector. Building robust growth and health in available jobs can involve finding and developing opportunities, training and supporting individuals, and expanding and enriching individuals' outlook through other areas like arts and culture. (Americans for the Arts)
Here's why it's important to take the arts seriously:
In honor of arts in education week, the Indiana Arts Commission teamed up with the Indiana Office of Career Connections and Talent (CCT) to take a look at 21st Century Talent Regions and how creativity is playing a role in developing Indiana's workforce.
21st Century Talent Regions are places that commit to using a systems approach to attract, develop, and connect Hoosier talent.
Regions commit to working toward building and implementing a plan to:
Increase educational attainment
Raise household income
Grow population
What's the best way for artists and arts organizations to engage their 21st Century Talent Region?
Indiana Office of Career Connections and Talent (CCT): Indiana's 21st Century Talent Regions are created with students, educators, workers, businesses, and communities in mind. We find that the more local and regional leaders work together to leverage their collective resources, the more education and workforce opportunities are made available for Hoosiers in a variety of sectors, including the arts. We've seen artists and arts organizations engaged within their communities in a whole host of ways that help drive talent attraction--art exhibits, community workshops, cultural trails, festivals, makerspaces, murals, etc. With art and culture at the heart of Hoosier neighborhoods, artists and organizations have a unique ability to help their communities leverage the power of place to further attract talent, and are encouraged to collaborate with local and regional leaders by reaching out to the backbone organization of their respective 21st Century Talent Region.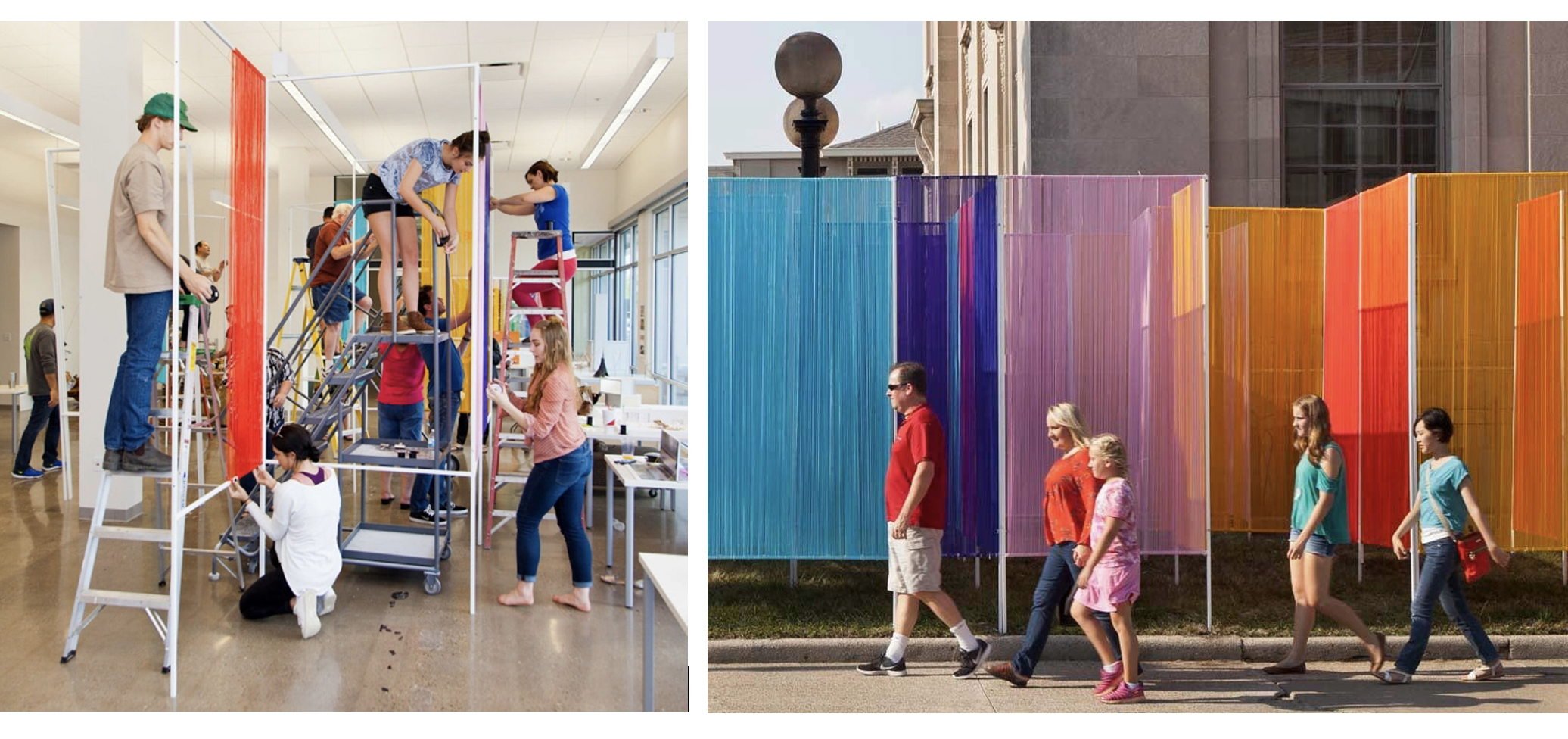 Image by Hadley Fruits for Exhibit Columbus.
One region that's seen tremendous returns on investment within the 21st Century Talent Region model is the EcO Network of Southeast Indiana Region, comprised of six southeastern Indiana cities including Columbus. The Columbus Arts and Entertainment District has estimated a staggering $83M in investment and revitalization in or near the district. How do these two structures work in tandem?
CCT: Through the 21st Century Talent Regions initiative, the EcO Network of Southeast Indiana adopted a systems approach to cross-sector collaboration, engaging leaders from local government, business, K-12 and higher education, nonprofits, economic development and workforce development. The Columbus Arts and Entertainment District is central to the Columbus community, in that, it provides area residents and visitors with a whole host of arts, educational, entertainment, cultural, dining and recreational options. We're seeing more and more communities investing in quality of place, as it plays a huge role in attracting talent.
Kathy Oren, Executive Director, Community Education Coalition (EcO): A key element of work that connects the EcO Network of Southeast Indiana to the Columbus, Indiana Arts and Entertainment District is Indiana University's establishment of the J. Irwin Miller Architecture Program housed in one of Columbus' National Historic Landmarks, The Republic Building, which is located within the arts district. The Community Education Coalition, which serves as the backbone organization for the EcO Network, has been privileged to work alongside IU President Michael McRobbie and his team, Mayor Jim Lienhoop and the City of Columbus, private sector leaders, and all of whom have worked tirelessly together for nearly ten years to make this program come to life. The three-year master's degree course of study brings together the best of IU and the best of Columbus focusing on internationally recognized design and architecture while facilitating great student, faculty, and community interaction.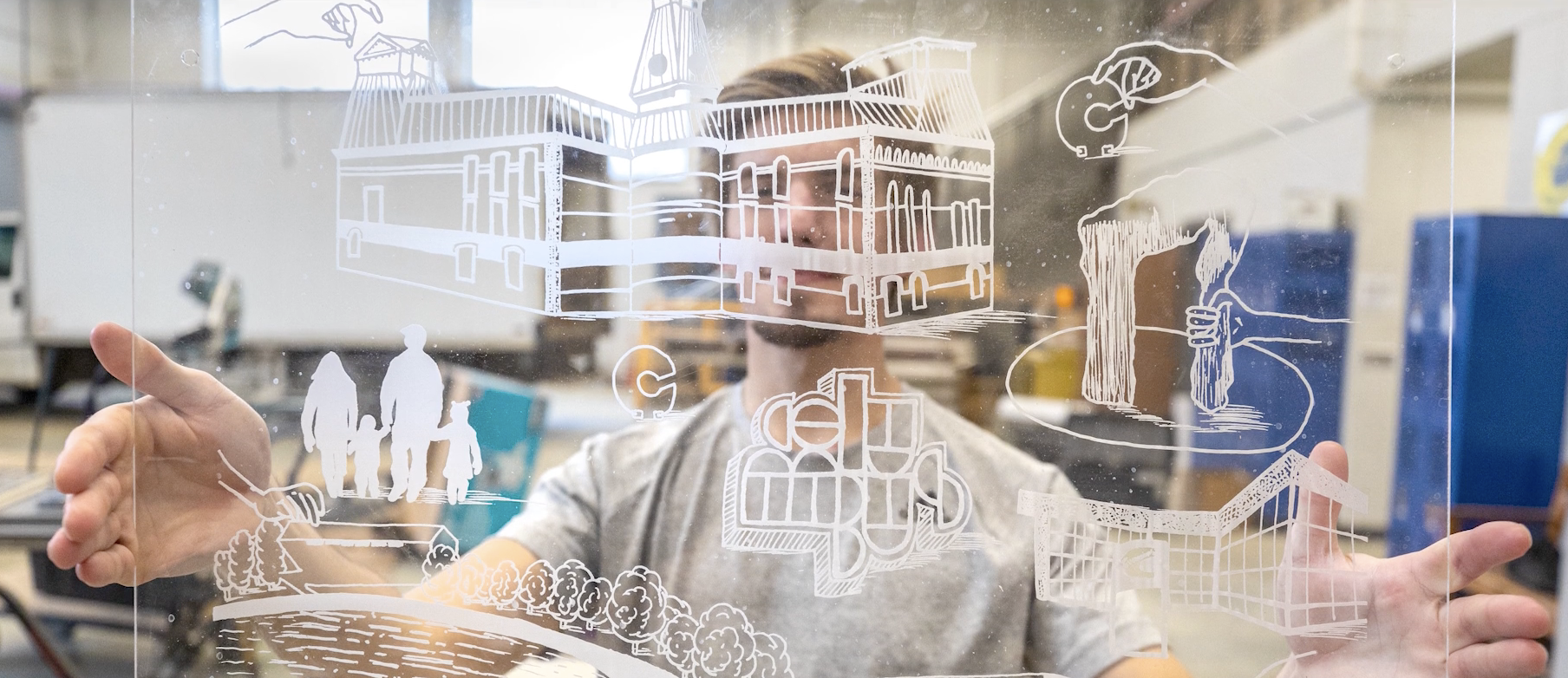 Still from 2019 High School Design Video by Spirit of Space.
Some of the most popular Exhibit Columbus installations were created by high school students. Why was it important for you to include students in this globally renowned event?
Richard McCoy, Executive Director, Landmark Columbus Foundation: Working with high school students has been a key part of our strategy with the Exhibit Columbus program. We want the next generation to understand not only the cultural value of our architectural heritage, but also the economic value that it creates. This heritage is foundational to our talent development, attraction, and retention strategy and has been for more than 70 years. Plus, working with high school students brings a new kind of energy and excitement to the project, and is an area that we see a lot of potential for growth.
Cameron Swan, 2019 High School Design Team: It's actually been such a great experience because I'm going to school for architecture so the whole thing has been really eye opening to like potentially what this career would look like, the whole process of design phase to budgeting as well, and then to building, and then completing, and then transitioning to the actual site. It's really great to see how everything comes together. It just further emphasized that this seems like the right career choice for me. We're alongside world-famous architects, and we're really excited to just see how everyone in Columbus sees Columbus in themselves.
Arleth Landero Gonzalez, 2019 High School Design Team: I think that's why all these projects are centered around including the community, including people in it because it's not just about you or what you think, or your own design, it's about involving everyone else into your architecture.
Looking at up-and-coming 21st Century Talent Regions, Evansville is powering full steam ahead (pun intended). What kind of activity are you seeing in the area that is building such great momentum?
CCT: Importance of place cannot be overlooked; folks consider a long list of factors when deciding where to live, work and grow, among them education and employment opportunities and quality of place. Between its five arts and cultural districts, award-winning universities, and innovative business incubator, the greater Evansville area offers a whole host of opportunities for native and transplant Hoosiers. Southwest Indiana leaders have been working collaboratively to align resources to make Southwest Indiana the talent and economic region of choice in the Midwest, and are currently pursuing a 21st Century Talent Region designation from the State.
Anne McKim, Executive Director, Arts Council of Southwestern Indiana: One of the most important responsibilities we have as leaders and decision makers is to equip the next generation with creative thinking and problem solving skills. In Southwestern Indiana, arts and cultural institutions partner with educators to ensure that young people are exposed to a wide variety of artistic disciplines, but more importantly, that they are engaged in projects and programs that nurture creativity. We're teaching students to see the world in color and in all three dimensions; exactly what employers are looking for in the 21st Century workforce. It is essential for elected officials as well as leaders from corporate and educational sectors to understand that these efforts require investment. The Arts Council of Southwestern Indiana grants over $200,000 annually to fund youth arts experiences, though we see a need for even greater impact in undeserved communities.
As a Vincennes-native, I have a soft spot for southern Indiana but let's swing up to the northern half of our state before we go. One community that I'm constantly wowed by is South Bend. Can you tell us how creativity is helping shape that community?
CCT: What comes to mind for me immediately is the South Bend River Lights lining each side of the St. Joseph River. The first-of-its-kind interactive lights display, the River Lights is more than just a public art piece; it speaks to the talent attraction, economic development and community advancement happening in the South Bend-Elkhart Region. Creativity, collaboration and problem solving are skills crucial to remaining nimble in today's rapidly changing economy.
Angela Workman, Vice President, Program, Community Foundation of St. Joseph County: Our area has a number of high-quality programs targeting arts integration in our schools. This includes South Bend Community School Corporation's engagement with South Bend Civic Theatre, the Robinson Community Learning Center's (RCLC) Shakespeare outreach, and the Kennedy Center partnership, as well as Penn-Harris-Madison School Corporation's Summer Visual Arts Academy. We've seen these programs engage students in their learning in really rich, hands-on, and fun ways. These integration activities guide students to express themselves in new and different ways across a variety of subject areas.
---
Published September 11, 2020