By Britt Sutton, JD
While this year may be the 30th Celebration of the Americans With Disabilities Act (ADA), we celebrate the ADA each and every day at ArtMix.
The Americans with Disabilities Act was signed into law on July 26, 1990. While organizations like ArtMix existed before this date, they were drastically ahead of their time. The ADA was composed as a response to widespread, systemic discrimination of individuals with disabilities in schools and the workplace. The late Jean Kennedy Smith established VSA, the founding organization for ArtMix, as a response to this discrimination. She believed all young people with disabilities should have access to a quality arts education and that all individuals with disabilities who aspire to careers in the arts should have the opportunity and access to develop their skills. We at ArtMix still share and honor Jean's beliefs and try to put them into action daily through our programming.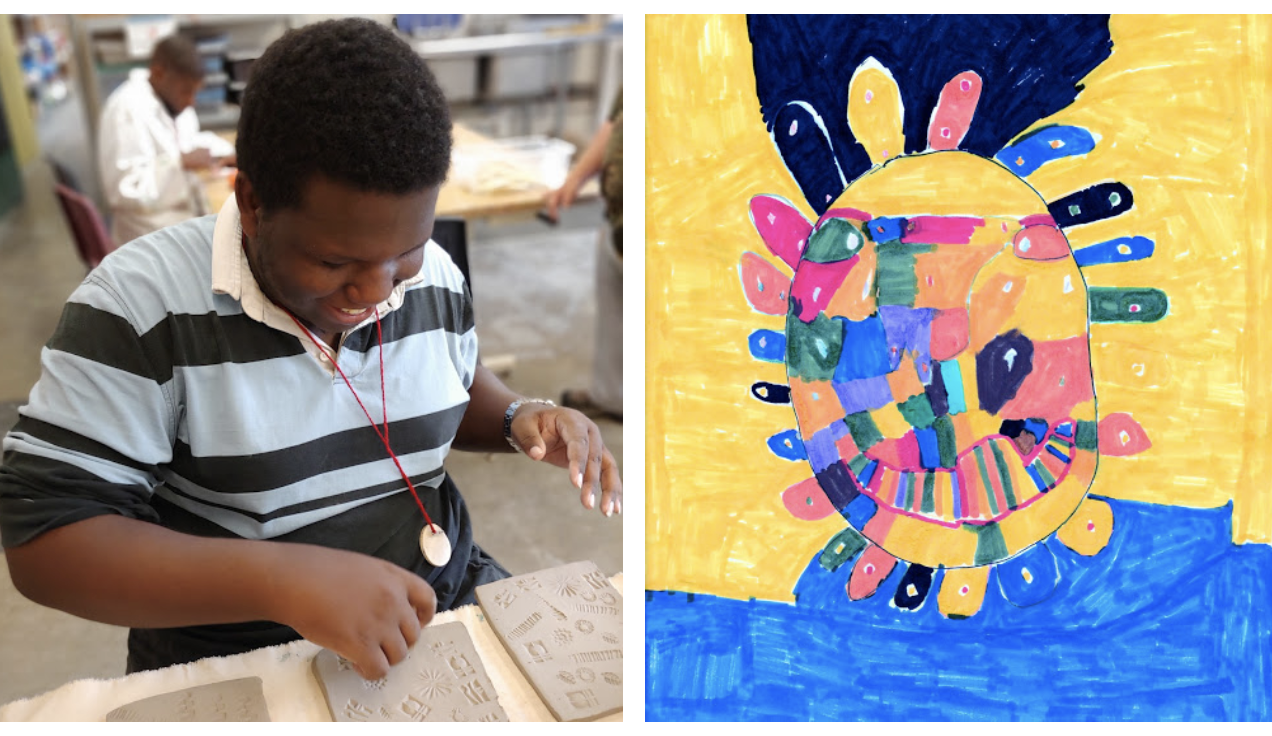 L: Artist Kevin stamping clay in the studio. R: 2D piece by Ashley titled "Day Into Night"
In 2001, ArtMix established the Urban Artisans Program. Urban Artisans is an internship program that aids 16-22 year-olds, with and without disabilities, with the transition from school to the workplace. Under the leadership of our professional teaching artists, interns work as a creative team to produce marketable, artistic products in clay, fiber, paints and mosaics. These products are sold in the ArtMix Gallery, our website, and in local shops throughout Indianapolis. Through this program, interns gain artistic, vocational, and social skills that help them in their future endeavors. Urban Artisans is also an opportunity to partner with local schools where students with disabilities are able to participate in the programming as a part of their school day. Without the ADA providing the legal basis for equitable employment and education for individuals with disabilities, our amazing artisans would not have the opportunity to access the programming and continue their careers post-graduation.
It is important to note, you do not have to be an Arts Disability organization to provide accessibility and ADA accommodations in your space! I encourage you to be open to employing artists with disabilities and showcasing their work. While we have celebration months such as Disability Awareness Month in March, consider showcasing artists with disabilities year-round. I also encourage you to consider adding adaptive technologies into your organizations to better serve your patrons with disabilities. Adaptive technology may sound intimidating, but it can be as simple as purchasing adjustable tables for your work space or adding closed captioning to your organization's videos. For example, during our current crisis with COVID19, Adaptive Technology means making our art classes and videos available via Zoom and our YouTube Channel: ArtMixIndiana. Bring people with disabilities to the table, ask us what we need. Local disability organizations like Family Voices, The Arc, and Easter Seals are always happy to serve as focus groups when you are in need of feedback. We at ArtMix are also happy to help!
My final note on the ADA is quite personal. While I was drafting this blog, I realized but for the Americans with Disabilities Act, I would not be serving as the President and CEO of ArtMix. I am a proud person with epilepsy and the ADA provides me the safety to disclose this, have access to accommodations, and hold a wonderful job that I love. It provided me the opportunity to study disability law during my legal education and serve as a voice and resource for my fellow individuals with disabilities. As we look at where our country is today, I am incredibly grateful to live in a time where the ADA is established and well-respected legislation. I hope you will all join me in celebrating the 30th anniversary of this law that makes so much possible for so many.
Visit www.artmixindiana.org to find out more about ArtMix programs including Urban Artisans!
Follow ArtMix on:
Instagram: @artmixindy
Facebook: ArtMix Indy
Youtube: ArtMixIndiana
About the Author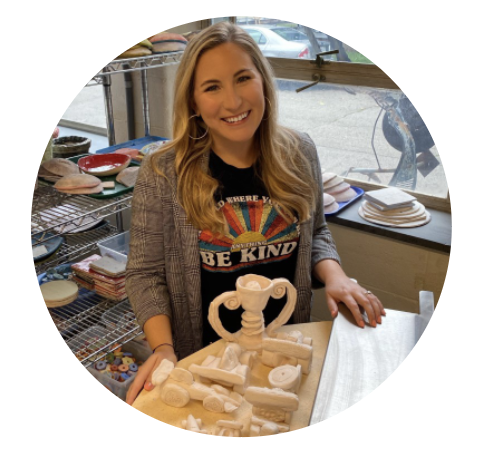 Britt Sutton (email) serves as the President and CEO of ArtMix in Indianapolis. She has long been an advocate for individuals with developmental disabilities, serving in a number of important positions. After working as an Applied Behavioral Analysis (ABA) therapist for children with Autism Spectrum Disorders, Britt focused in healthcare law, non-profit law, advocacy, and policy while pursuing her juris doctorate.
Britt served as the Director of Policy for the Indiana Bureau of Developmental Disabilities Services where she specialized in administrative law and policy composition for the Indiana Medicaid Home and Community Based Services Waiver programs. Britt was the Associate Director of the Hall Center for Law and Health at Indiana University Robert H. McKinney School of Law where she also served as an adjunct professor for the LEND Legal Fellows program.
In her personal time, Britt enjoys taking dance classes, exploring the Cultural Trail with her corgi Augie, watercolor painting and spending time with her husband, Samuel Rothstein, Assistant Principal Clarinetist and Bass Clarinetist of the Indianapolis Symphony Orchestra.