We Make a Difference
---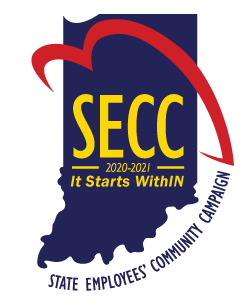 The theme for this year's The 2021-2022 State Employees' Community Campaign (SECC) is, "We Make a Difference." This highlights the positive outcome of state employees' efforts. Together, we make a difference in the communities and lives of Hoosiers across the state!
Fundraising Goal
---
The Indiana SECC season began on Aug. 26, with the annual kickoff party, and will continue for nine weeks. The fundraising goal for this campaign is to build on last year's success and raise $1.5 million.
All state of Indiana employees are invited to come together to achieve our fundraising goal and make this campaign season one to remember!
Events Calendar
---

There will be many SECC events throughout the campaign open to all state employees, including a silent auction, a basketball relay, and a lip sync battle!
Check out the SECC events calendar, where you can view all local, statewide, or agency-specific events in one place!