It Starts WithIN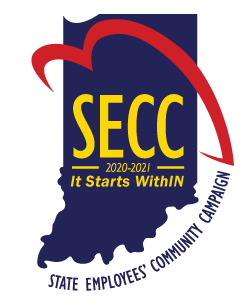 This year's theme, "It Starts WithIN,"gets to the heart of how and why we give: It starts within each of us. Due to the COVID-19 pandemic, this year's campaign will be different. But we believe we can still make an impact on charities which now, perhaps more than ever, need our help.
Learn more or make a contribution at www.indianasecc.org.
SECC Events Calendar

New for this year is the statewide and local events calendar! Now you can view all local, statewide, or agency-specific events in one place.
Learn more about how you can participate in SECC on the Statewide SECC Events page.
Submit an Event

Do you know of a local, statewide, or agency-specific event that you would like included on the SECC Events calendar?
If so, you're in luck! Just click the link below, fill out the form, and submit your event. We'll take care of the rest!