By Former MoneyWise Staffer, Kelly Griese
Wednesday, May 6, 2020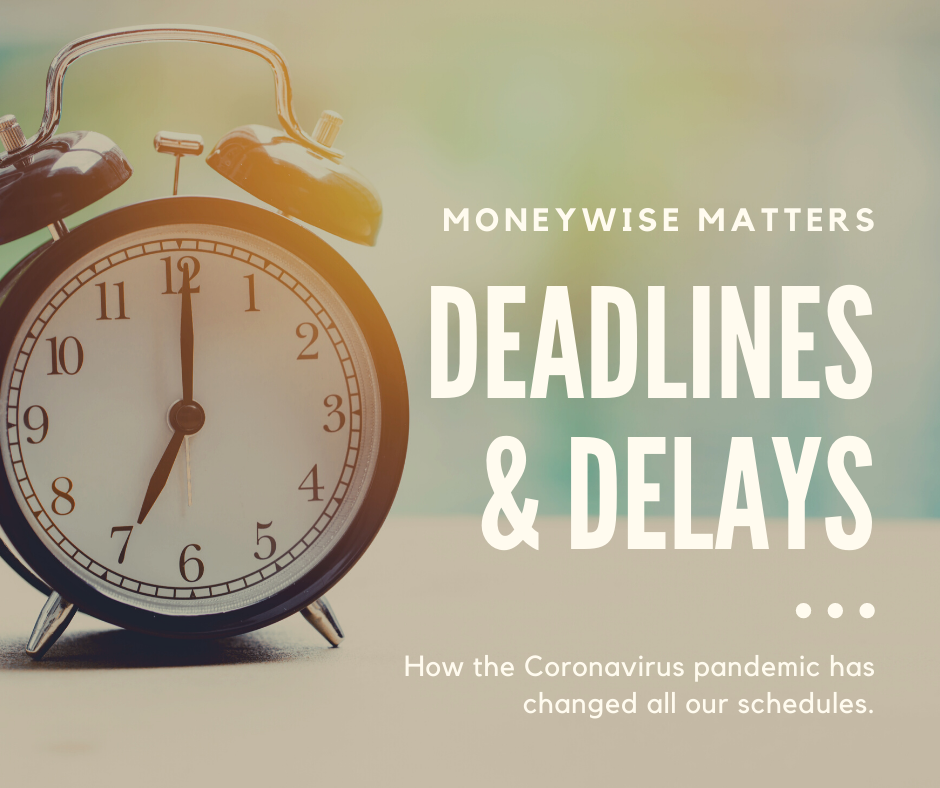 The Coronavirus pandemic has caused major disruptions in all our lives. It's also led to a lot of changes to common deadlines and delayed events. This week, we want to take a look at some of those deadlines and delays. This is by no means a complete list, and if you know of other significant deadlines or delays that you think we should include, feel free to email me, Kelly Griese, at kgriese@sos.in.gov.
---
Courts
A few weeks ago, Indiana Chief Justice Loretta Rush said, "We're hearing from lawyers, judges, litigants, and law students that the legal system must be more flexible at this time. The Supreme Court is ordering rule changes to ensure certain legal services can be provided with remote capabilities and extending the bar exam application deadline." You can read the full list of orders on the Judiciary's website. The orders impact everything from administering oaths and signing legal documents to child custody and bar exams.
---
Licenses and Registrations
Earlier this week, select BMV branches resumed serving customers in-person by appointment. It's important to know that the most common BMV transactions, including license and registration renewals, can be completed online at myBMV.com. If renewing online isn't possible, you should know that some late fees have been waived. Credit card fees for online transactions have also been waived. If you need to make an in-person appointment, you can learn more about that process by clicking here. Driving skills exams are not currently available.
---
REAL ID
The deadline for enforcing REAL ID has also been extended. You now have until October 1, 2021. That's when every air traveler 18 years of age and older will need a REAL ID-compliant driver's license, state-issued enhanced driver's license, or another acceptable form of ID to fly within the United States. You can learn more about REAL ID by visiting the Transportation Security Administration's website.
---
Taxes
The Indiana Department of Revenue (DOR) has extended certain filing and payment deadlines. Individual tax returns and payments, along with estimated payments that were originally due by April 15, 2020 are now due on July 15, 2020. Corporate tax returns and payments, along with estimated payments that were originally due by April 15 or April 20 are now due on July 15, 2020. Corporate estimated payments originally due on May 15, 2020, are now due on August 17, 2020. You can find a list of all returns affected by visiting DOR's website.
Additionally, extensions for payment plans, registered retail merchant certificates and more can be found in the "Helping Hoosiers" COVID-19 relief services agency announcement or on their Coronavirus web page.
---
Housing Payments
If you're having trouble making rent or mortgage payments due to the Coronavirus pandemic, you have some options. On March 19, Governor Holcomb issued an order that paused eviction cases, and that pause has been extended through July 1. It doesn't mean you don't have to pay your rent! As our friends at Indiana Legal Services explain, "failure to pay rent and other lease violations may result in eviction actions being filed or heard in court after the state of emergency ends. Landlords may not forcibly remove tenants from their rental property, nor can they lock out tenants or discontinue utility services. If a landlord does so, tenants should call local law enforcement. If your landlord attempts to evict you while the pause is in place, you may also file a complaints with the Indiana Attorney General's office." Indiana Legal Services may be able to help you if your landlord tries to evict you inappropriately. You can contact their office for an application for legal assistance.
As for mortgages, you may qualify for delayed mortgage payments without late fees and protection from foreclosure/eviction. The Federal Housing Finance Agency provides more information on who qualifies and how to apply.
---
Student Loans
The Consumer Finance Protection Bureau did a great job of explaining current changes to student loan repayment, so we're going to quote them and suggest you read their full blog post on the subject. "Student loan borrowers now have more benefits to consider when planning for the potential financial impact from coronavirus. A new federal law, the Coronavirus Aid, Relief, and Economic Security (CARES) Act, provides automatic suspension of principal and interest payments on federally-held student loans through September 30, 2020. These suspended payments will count towards any student loan forgiveness program, as long as all other requirements of the loan forgiveness program are met." It's important to note that PRIVATE student loans are not included in the CARES Act. For more information about private loans and forbearance, check the Experian blog.
---
Car Insurance
It's possible you've already received an email or letter from your car insurance provider discussing their COVID-19 plans. It makes sense, given we're driving a lot less these days. According to the Consumer Federation of America, more than 82% of car insurance companies are offering refunds and credits, totaling more than $6.5 billion. To see if your car insurance company is providing relief, check this article from USA Today.
---
The MoneyWise Matters blog has a wealth of information about managing money and avoiding fraud. You can look through the complete archive here.