The State Health Insurance Assistance Program (SHIP) is a free and impartial counseling program for people with Medicare. SHIP is provided by the Administration for Community Living and the Indiana Department of Insurance. We are part of a federal network of State Health Insurance Assistance Programs located in every state.
SHIP is staffed by a crew of volunteer counselors who have completed an intensive four-day training course and are certified by the IDOI. Regular training updates keep them current with the most recent changes in Medicare and other health care insurance options. Learn more about becoming a SHIP Volunteer. SHIP counselors are committed volunteers who offer you free and objective assistance in complete confidence.
What SHIP does:
Provides educational materials and brochures.
Educates beneficiaries so they can understand Medicare, file claims, and appeal Medicare decisions.
Informs consumers of their rights as a Medicare beneficiary or health insurance policyholder.
Shows consumers how to evaluate the various Medicare Part D, Supplement, Medicare Advantage, and Long Term Care Insurance policies currently available.
Refers clients to appropriate agencies where they can get help with other needs.
Provides speakers to make presentations to groups.
Helps with applications for assistance programs that help pay for uncovered Medicare costs.
One-on-one assistance can be in person, on the phone, or virtual. To contact a counselor at our central office call (800) 452-4800.
If you do not live in Indiana, please click here to find your local Medicare contact information.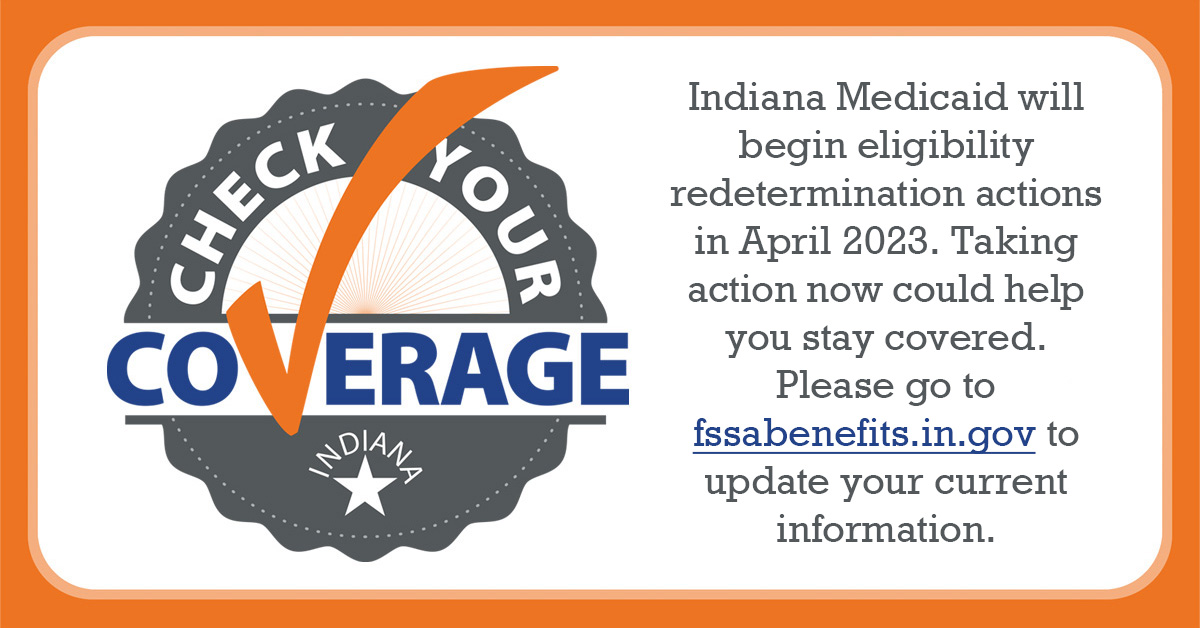 During the COVID-19 federal public health emergency, due to federal requirements, Indiana Medicaid members were able to keep their coverage without interruption.
The most recent federal spending bill ended Medicaid coverage protections, which means Indiana Medicaid will return to normal operations.
Eligibility redetermination actions will begin in April 2023, with a 12-month plan to return to normal operations.
Many of these redeterminations are done automatically based on information the state has available. In some situations, the state of Indiana will need to ask the member for information about themselves and their family, such as current address, employment status and income, age and family size.
Call SHIP for help at (800) 452-4800.
If your income is less than $2,268 per month and you have limited assets, you may qualify for help with medical costs not covered by Medicare and with prescription drug expenses.
---