How to Obtain a Motorcycle Endorsement
Did you know there are two ways you can obtain your Indiana motorcycle endorsement?
Indiana residents who successfully complete a motorcycle safety training course with an authorized Ride Safe Indiana provider may then add the motorcycle endorsement to their driver's license (either by visiting a branch or by simply logging into myBMV.com).
Approved Ride Safe Indiana providers offer courses for beginning and advanced motorcyclists who want to learn or improve their riding skills. Over the span of three days, course participants receive:
Five hours of classroom instruction and
Ten hours of practical riding exercises in a controlled, off-street environment
The course concludes with a knowledge and skills evaluation. Training course results are electronically submitted to the BMV by the approved Ride Safe Indiana provider. Results are valid for one year.
Requirements:
Must be at least 16 years and 90 days of age
Must hold a valid Indiana driver's license
Participants are responsible for bringing the following to their training course: DOT certified helmet, full finger gloves, over the ankle boots, long pants, long sleeve shirt, and eye protection. Motorcycles are provided free of charge for your use during the course.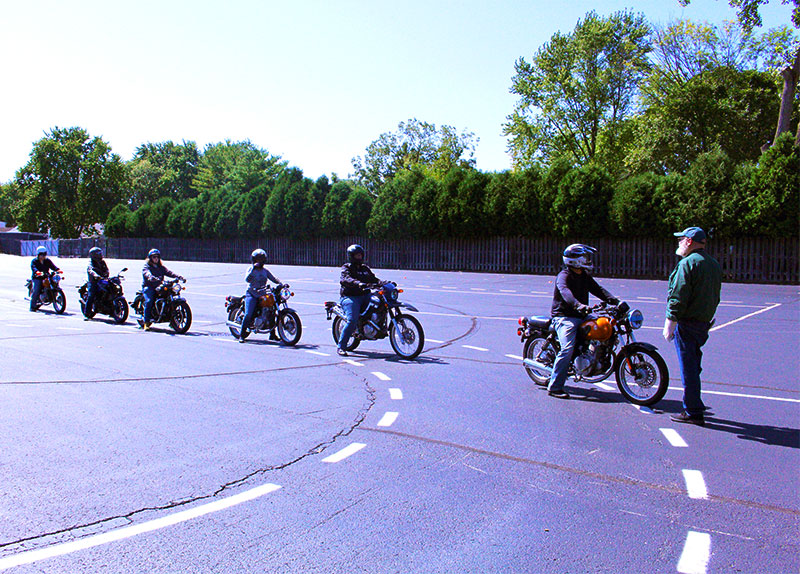 Indiana residents who hold a motorcycle learner's permit may obtain a full endorsement after
successfully completing a motorcycle skills exam with an approved Ride Safe Indiana skills


AND

turning in the signed/stamped motorcycle learner's permit at a BMV location.
The motorcycle skills exam is only good for the validity of the motorcycle learner's permit.
NOTE: Completion of the skills exam, is NOT the same as completing a motorcycle training course.
Requirements:
Must be at least 16 years and 270 days of age
Must hold a valid Indiana driver's license
Must possess a valid motorcycle learner's permit
Must bring a DOT-certified helmet
Must bring a street-legal motorcycle to the skills exam
You may also be required to pass a standard vision screening exam.