Community Liaisons
Community Liaisons (CL) are strategically located throughout the state to assist communities in accomplishing the goals set forth by the local government. CL's proactively work to locate funding and other resources for community and economic development projects as well as facilitate the meeting of local officials, state, and federal agencies and other entities and provide information and access to the necessary resources. CL's also assist communities in meeting their community and economic development goals by providing technical assistance on all OCRA programs.
Northwest
Gerry White: (317) 694-8372, gewhite@ocra.in.gov
Benton, Cass, Carroll, Clinton, Fulton, Jasper, Lake, Porter, La Porte, Marshall, Newton, Pulaski, Starke, St. Joseph, Tippecanoe, White, Warren counties.
Gerry joined OCRA in December 2006. During his time with the agency, he has represented the Northwest region. Before working at OCRA, Gerry spent 16 years in the administration at Purdue University, three years teaching in HS and three years in financial planning. The diversity of people, geography and opportunity in Indiana should be celebrated, encouraged, strengthened and experienced. Every day working with communities brings unique challenges making each day different.

"I really appreciate the diversity of the people and communities that I work with, which include the highly urbanized, as well as extremely isolated communities. This means that no two days are alike," said White.

He holds a B.A. in Political Science/U.S. History/ Social Studies Education, a M.S. in Social Studies Education and is a dissertation shy of a Ph.D. in Educational Technology. Gerry lives in West Lafayette, with his wife Barbara. His extended family stretches across the state.
---
Northeast
Allie Daugherty: (317) 741-2264, adaugherty@ocra.in.gov
Adams, Allen, Blackford, DeKalb, Elkhart, Huntington, Jay, Kosciusko, Lagrange, Miami, Noble, Steuben, Wabash, Wells, Whitley counties.
Allie joined OCRA in April 2021. As an individual versed in both the non-profit and for-profit sector, she has learned the importance of both internal and external networking. In her previous role as a Fund Development Specialist with the Girl Scouts of Northern Indiana-Michiana, she maintained positive relationships with United Ways and community foundations within the council's geographic region, assisting with major campaigns.
"As a Northeast Indiana native, I have studied in the fields of psychology and leadership. During my career in community mental health, I developed various relationships among colleagues and gained a greater appreciation for the opportunities Indiana gives for those in need," Kresse said. "One of my favorite parts of Northeast Indiana is going to the local 4-H fair for soft serve or other local festivals for some sweet treats. I look forward to the opportunity to work with others in Northeast Indiana to share ideas and discover new opportunities."
Allie holds a bachelor's degree in psychology and a master's degree in leadership science from Trine University. She grew up in LaGrange, Indiana and now lives in Avila, Indiana.
---
East Central
Garrett Conway: 317-605-5816, gconway@ocra.in.gov
Delaware, Fayette, Franklin, Grant, Hamilton, Hancock, Henry, Howard, Madison, Marion (Lawrence, Warren, Washington Townships) Randolph, Rush, Shelby, Tipton, Union, Wayne counties.
Garrett joined OCRA in August 2022. His time with IU's Center for Rural Engagement and Hoosier Uplands Economic Development Corporation provided Garrett the opportunity to see how communities can thrive when working in tandem with stakeholders and by channeling their inherent skillsets.
"Growing up in rural Delaware County translated into a passion for community sustainability through interconnection and development," Conway said. "My collegiate studies in public policy and legal analysis provided the skills and resources to turn my passion into a reality where community needs can be addressed and fulfilled."
Garrett holds a bachelor's degree in public affairs from Indiana University and a Master of Jurisprudence from Michigan State University College of Law. He resides in Muncie, Indiana.
---
Southeast
Jarrad Holbrook: 317-690-9736, jaholbrook@ocra.IN.gov
Bartholomew, Brown, Clark, Dearborn, Decatur, Floyd, Harrison, Jackson, Jefferson, Jennings, Ohio, Ripley, Switzerland, Scott, Washington counties.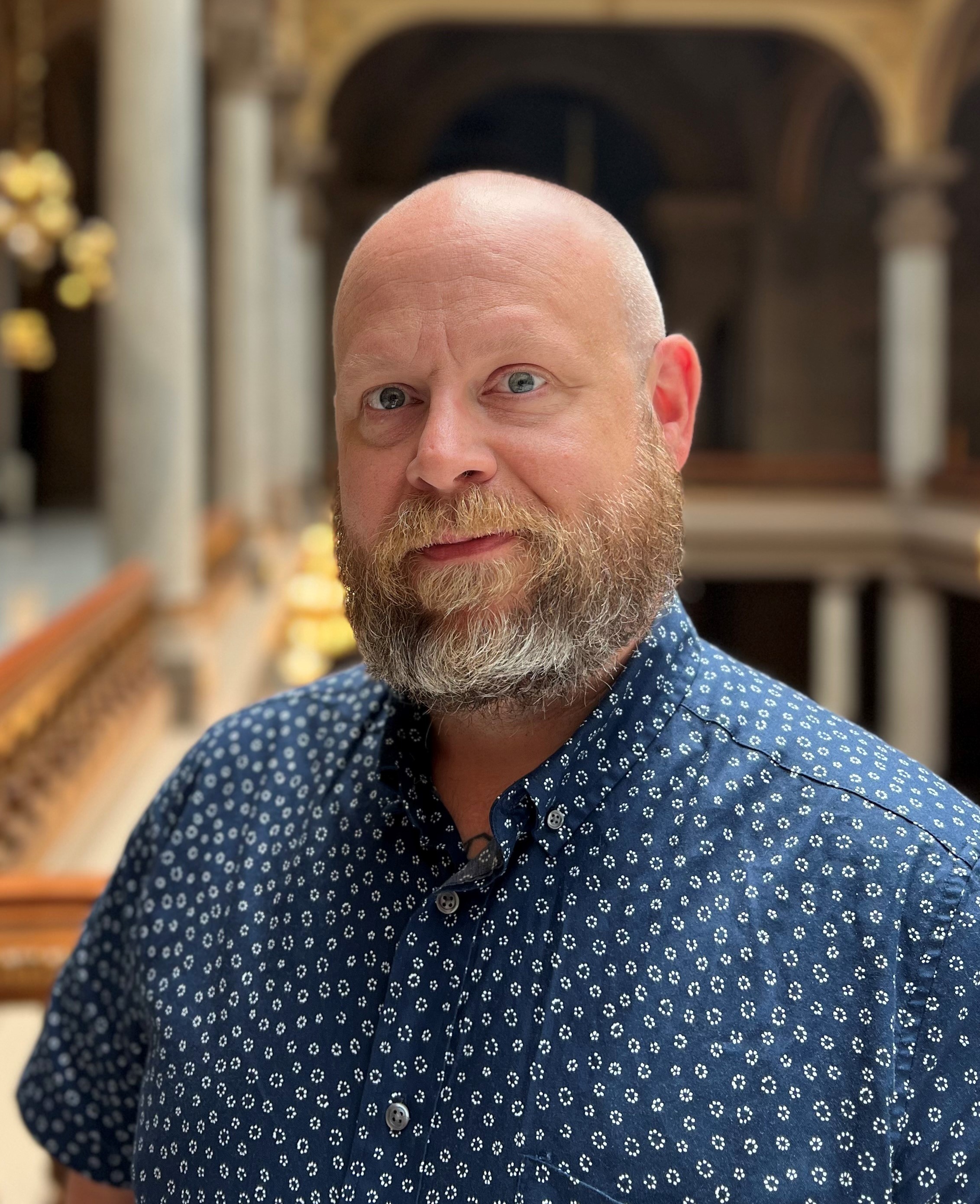 Growing up in a tiny southwest Georgia town, Jarrad knows firsthand the challenges and opportunities facing these communities. His love for global travel also serves as inspiration for projects and approaches back home in southeast Indiana.
With an undergraduate degree in theatre and a Master of Historic Preservation along with a Graduate Certificate in Historic Landscapes, all from the University of Georgia, he has a particular eye for the intersection of historic downtowns, placemaking and the arts.
He also has a special interest in telling more complete stories and amplifying voices of underrepresented communities.
---
Southwest
Jill Hahn: 317-760-5097, jihahn@ocra.in.gov
Crawford, Daviess, Dubois, Gibson, Greene, Knox, Lawrence, Martin, Orange, Perry, Pike, Posey, Spencer, Vanderburgh, Warrick counties.
Jill Hahn serves as the Southwest community liaison for OCRA. She earned a bachelor's degree from Indiana University's School of Public and Environmental Affairs-Management, and a bachelor's and master's degree in secondary administration from the University of Southern Indiana.
Jill previously served as the coordinator for the Randall T. Shepard Leadership and Law Academy for nine years. Prior to this, she taught in the Evansville Vanderburgh School Corporation for 32 years.
"I strongly feel that everyone should find their own unique contribution to society. If everyone would have one act of service to others, we would have a much better community, state and world," Jill said.
Jill lives in Vanderburgh County with her husband John. They have two adult sons together.
---
West Central
Sarah Froderman: 317-504-6965, sfroderman@ocra.in.gov
Boone, Clay, Fountain, Hendricks, Johnson, Marion (Center, Decatur, Franklin, Perry, Pike, Wayne Townships) Monroe, Montgomery, Morgan, Owen, Parke, Putnam, Sullivan, Vermillion, Vigo counties.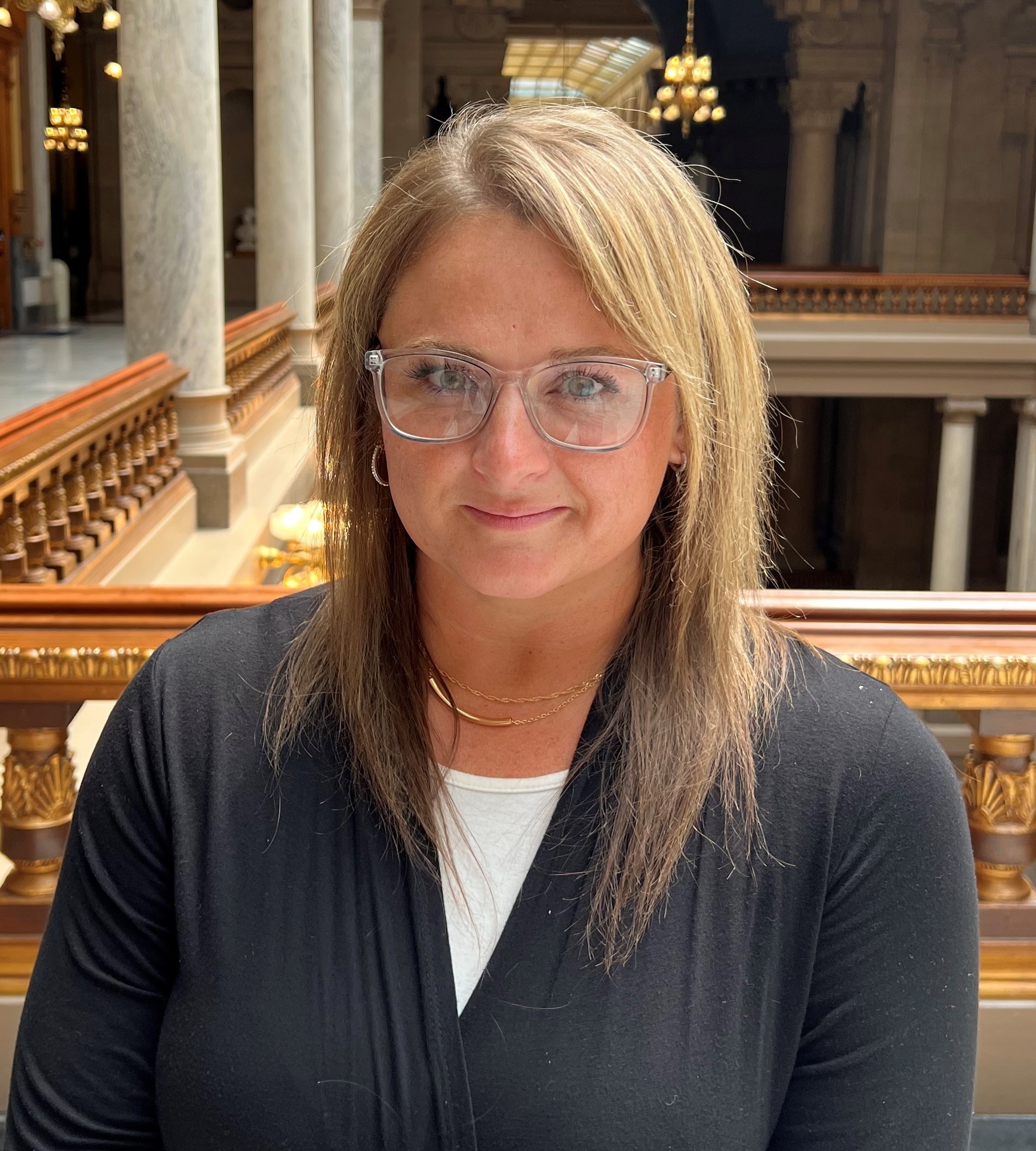 Sarah Froderman serves as the West Central community liaison for OCRA. She earned her bachelor's degree at Purdue University and her master's degree at Indiana State University.
Previously, Sarah was the associate director of financial aid at ISU, where she also taught. She currently volunteers with the Clay County Youth Food Delivery Program, College Goal Sunday, Festival of Trees, Habitat for Humanity, the Brazil Lions Club and Junior Achievement.
"My passion is positively impacting those around me and helping others achieve their unique version of success. By being in this role, I am able to do just that, as well as help others navigate ways to empower their own communities."
Sarah lives on her farm in Clay County and loves to travel and visit National Parks.
---
Community Affairs Director
Neil Elkins: (317) 460- 6177, nelkins@ocra.in.gov
Neil Elkins began his role as the community affairs director for OCRA in August 2021. Prior to joining OCRA, he worked as the housing services director for TRI-CAP in Southwest Indiana from 2010 to 2021. TRI-CAP is a community action agency that has served the Southwest region for over 50 years. As housing director, Neil supervised housing programs to help meet the housing needs of his communities through home rehabilitation, weatherization, housing production, energy assistance and home buyer assistance programs.
Neil was inspired to join OCRA to fulfill his desire to serve rural Indiana communities, focusing on assisting low-to-moderate income households. In his current position, he oversees a team of six regional community liaisons, who help communities meet their community and economic development goals.