Main Content
Featured Content
Stellar Communities Program
Historic Renovation Grant Program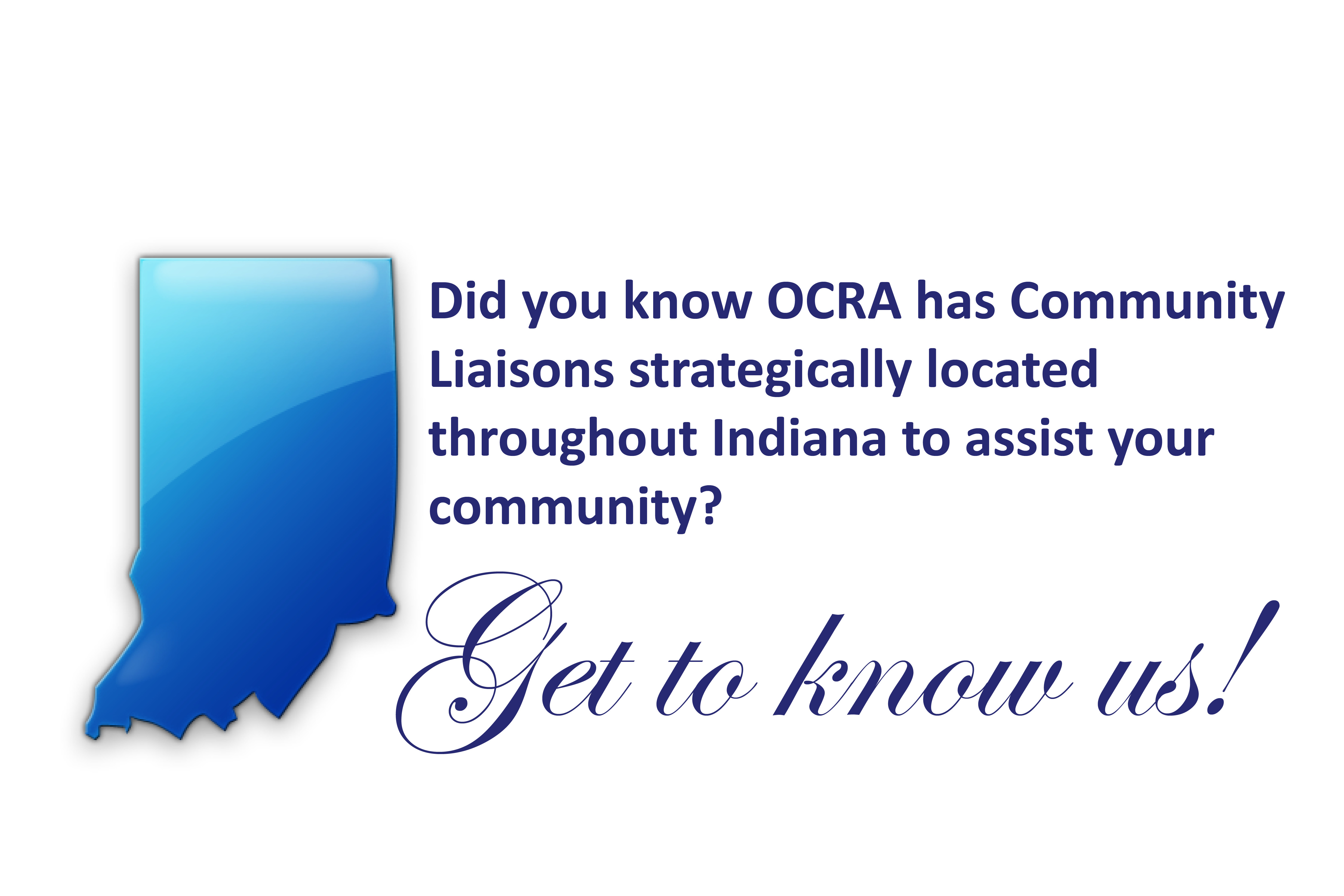 Community Liaison Districts
Welcome
Vision
The Indiana Office of Community and Rural Affairs works with Indiana communities to build relevant and economically thriving places where people want to live, work and grow.
Mission
The Indiana Office of Community and Rural Affairs works with local, state and national partners to provide resources and technical assistance to aid communities in shaping and achieving their vision for community and economic development.
News & Events
OCRA offers exciting, challenging and rewarding careers for professionals looking to serve rural Indiana communities. Would you like to join our team? If so, apply for our Southwest Community Liaison!
The OCRA Liaison grows and maintains working relationships with local and regional leaders including, but not limited to elected officials, local economic development officials, chambers of commerce, community foundations, Main Street organizations, and regional planning organizations. A liaison serves as a front door to state government and act as a conduit between communities and state agencies. They seek, document, highlight, and disseminate community economic development best practices. The CL promotes the agency's menu of programs and provides technical assistance to communities in the engagement of these programs. This position serves the following counties in Southern Indiana; Knox, Lawrence, Daviess, Martin, Gibson, Pike, Dubois, Orange, Posey, Vanderburgh, Spencer, Warrick, Perry, Crawford, and Harrison. The employee can reside anywhere in the region that allows for frequent and consistent travel throughout all of those counties and to Indianapolis.
Application are now being accepted until November 19. Click here to apply!
Frankfort Main Street is hosting the final 2018 Indiana Main Street community exchange on Friday, Nov. 16 focusing on economic vitality. Frankfort leaders will discuss a few exciting projects happening in and near their downtown as well as the latest Indiana Main Street updates. Click here to view the agenda. The exchange is from 8:30 a.m. to 4 p.m. at the Frankfort Community Public Library, Room 219, 208 West Clinton Street, Frankfort, IN 46041.

Mailed registrations are also being accepted by completing this form and sending it to Frankfort Main Street. The exchange costs $25 per person and the fee includes lunch.
Regional capacity workshops are now available to community leaders who are wanting to apply for the Stellar Communities Program. Visit our workshop page to learn more.