Indiana War Memorial Museum - Interior
North Vestibule and Grand Foyer
The main entrance is on the North side of the building; here is located an imposing vestibule with floors of Tennessee marble, walls of Neshobe Gray marble and a ceiling of richly decorated plaster beams. The North Vestibule opens into the Grand Foyer. The Grand Foyer also has floors in Tennessee marble, while the walls and columns are a combination of Verde Antique marble and decorator plaster, with a decorated plaster segmented ceiling. On the east and west sides of the Grand Foyer are grand staircases leading to the Shrine Room.
Pershing Auditorium
The Auditorium is in the center of the building, directly beneath the Shrine Room. It accommodates over 500 people in a room treated with base, dado and trim of American Red marble. The walls and ceiling are covered in Gustavino Acoustic Tile which absorbs various sounds and prevents reverberations from being thrown back into the room. A speaker on the stage, talking in a normal voice, can be heard clearly throughout the Auditorium.
Shrine Room
The fundamental intent of the Shrine Room, the emotional and architectural core of the Memorial, was to inspire citizenship amongst all who visit. Inspiration will come from the room itself, its architectural treatment, its shape and lighting which all form a magnificent setting for the American Flag hanging from the center of the room and the lighted Star of Destiny above.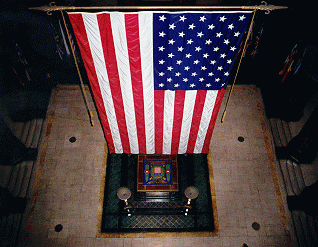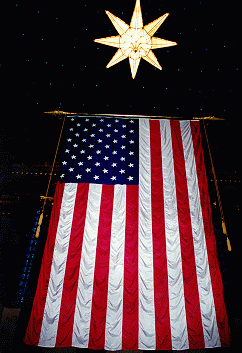 The 40 foot columns in the Shrine Room are made of American marble from Vermont. The red color of the marble was selected to represent the blood that was shed during World War I. By placing the columns so closely together, it represents the defense of the Nation.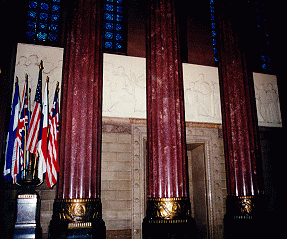 The allegorical sculptured frieze located on all four walls of the Shrine Room tells the story of World War I. The north wall depicts the Americans joining the Allies in war. The east and west walls portray the struggle of war by showing the equipment the soldiers used. On the south wall is the goddess of peace with the contrasting conditions realized by ultimate peace and the activities of man under these conditions. Mr. Frank Jirouch was the sculptor of the frieze.

Portraits
These portraits were painted by Mr. Walter Brough. Each portrays the national military commander from the major Allied Powers of World War I; America, France, England, Belgium, Italy and Serbia.