Article
18th Indiana
The 18th Indiana Battery of Light Artillery was organized at Indianapolis and mustered into service on August 14, 1862 with Captain Eli Lilly in command.
The company initially served at various posts at Cincinnati and throughout Kentucky. In June, of 1863, the 18th was assigned to Wilder's Mounted Brigade. It participated in Rosecrans' East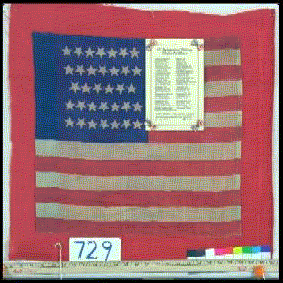 Tennessee Campaign in the succeeding months. During the battle of Hoover's Gap, Tennessee, the Confederate forces were well positioned, but Wilder's Brigade attacked and pushed the Confederate forces through the Gap. With effective fire, Lilly's Battery drove the Confederates from the field. The effective aim and deadly fire of the 18th Battery was also experienced by the charging rebel columns of General Longstreet's Corps during the battle of Chickamauga, on September 19, 1863.
Beginning in May of 1864, Lilly's Battery marched with General Sherman's army on the campaign against Atlanta during which it participated in numerous engagements, including those which occurred at Resaca, Cassville, Stilesboro and Lost Mountain. Later, it was among the Union forces that pursued General Hood's troops after the Confederate defeat at Chattanooga.
The 18th Indiana Battery, Light Artillery, Lilly's Brigade, participated in the following campaigns: Kentucky, 1862; Roscrans' Campaign in Tennessee 1863; East Tennessee, 1863 - 1864; against Atlanta, 1864; Pursuit of Hood, 1864; Wilson's Raid through Alabama and Georgia, 1864 - 1865; Tennessee, 1865.