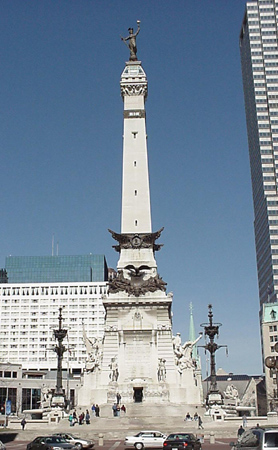 Soldiers and Sailors Monument
Recognized as one of the world's outstanding monuments, the structure has come to symbolize both the City of Indianapolis and the state of Indiana. The Soldiers & Sailors Monument is Indiana's official memorial to the Hoosiers that served in the Revolutionary War, the War of 1812, the Mexican War, the Civil War, the Frontier Wars and the Spanish-American War.
The Limestone used for the monument is gray oolitic limestone from the Romona quarries of Owen County. It stands 284 feet, 6 inches high, only 15 feet shorter than the Statue of Liberty. It cost $598,318 in 1902. It has been estimated that building a similar structure today would cost more than five hundred million dollars.

The commission for the monument construction requested architects to submit design proposals. Of the seventy proposals turned in, two finalists were chosen. Then from the two, Bruno Schmitz of Berlin, Prussia (Germany) received the appointment.

There are a number of art works either built into the Monument, or placed throughout the grounds. Bruno Schmitz brought with him Rudolf Schwarz. Schwarz was sculptor for the statuary groups "War" and "Peace", "The Dying Soldier", "The Homefront" and the four statues at the corners of the Monument that represents the Infantry, Cavalry, Artillery, and Navy.
Gift Shop and Observation Level
The Soldiers & Sailors Monument features a Gift Shop and Observation Level. From the Observation Level, visitors have a 360 degree view of the city skyline from 275 feet up. The Observation Level can be reached by climbing 331 steps or riding an elevator 90% of the distance and climbing the remaning 31 steps.
The Gift Shop and Observation Level are open from 10:30 AM - 5:30 PM, Wednesday - Sunday (between May and October) or Friday - Sunday (between November and April). The Monument is closed on all National and State holidays except for Memorial Day and Veterans Day.
Please note that when outside temperatures reach higher than 95 degrees, the Observation Level is unavailable due to safety concerns.