---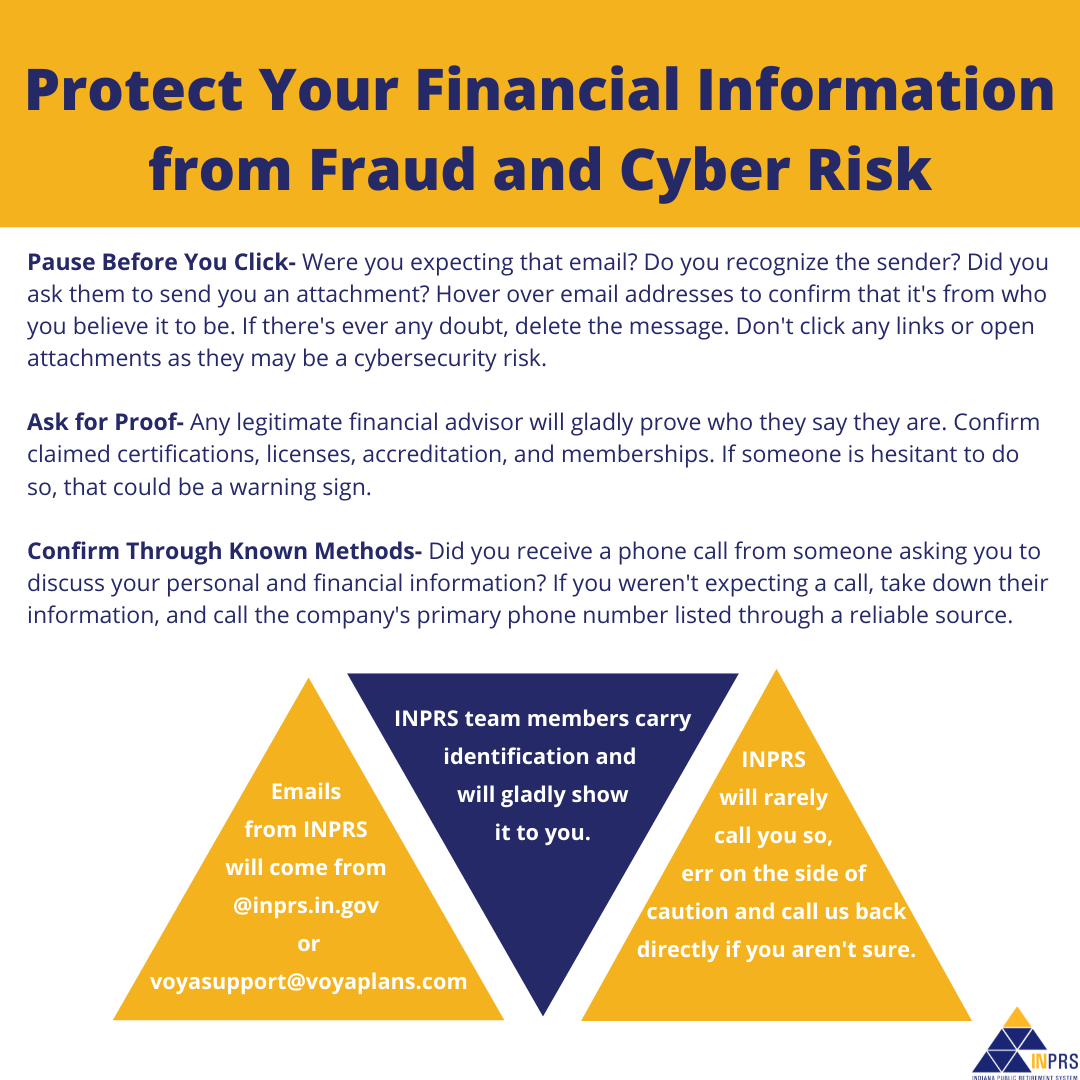 Fraudulent advisors, bad actors, and cybercriminals are more creative than you might think. And as a retiree with a valuable retirement benefit from the Indiana Public Retirement System (INPRS), you can become a top target. Keep your information and hard-earned money safe by knowing how to identify legitimate communications from those with deceptive or malicious intentions.
From time to time, INPRS is made aware of emails received by members from individuals falsely claiming to be representatives of INPRS. While not currently a widespread issue, it's important to protect your account information and personal identity, especially when it comes to your hard-earned retirement account. Maintaining vigilance over who has access to your information is one of the most important things you can do for your financial future and retirement security.
As an INPRS retiree, you can expect to receive communication directly related to your account through several channels throughout your years of service and through retirement. Things can get confusing as both legitimate and disingenuous attempts to earn your business arrive in your inbox.
To help you understand what is coming to you and from whom, we have provided this simple guide.
Direct Email- You'll receive updates about your secure member account, newsletters, and educational campaigns. If you have reached out to our Member Service Center, you may get an email response. These emails will come from an address with "inprs. in.gov" at the end. Your quarterly member statement will be sent to your email address on file from voyasupport@voyaplans.com. Hover over the email address before opening it to ensure that it is from INPRS and not masked to appear as if it is.
Direct Phone Call- At times, we make individual callouts for specific outreach campaigns. The caller should identify themselves by name and offer you an opportunity to call us back at our primary number to confirm its legitimacy. You can take their name and call us at 844-GO-INPRS to be directed to our Member Service Center which will then get you to the right team member. If you ever are not comfortable sharing information, please don't.
In-Person Appointments and Presentations- Our Retirement Services Consultants serve the entire state of Indiana and often conduct presentations and meetings in-person and online. There is no limit to how many appointments or presentations you can attend and there is never a charge for our services. Our team members always carry identification, so please ask to see it if you ever have any doubts. We promote these events through direct email, mail, on our website, and through your employer. Attendees can register online at www.inprs.in.gov and will receive an email confirming their registration. The confirmation email will come to you from our registration software provider, TimeTap, with an email address of noreply@timetap.com. An INPRS Retirement Services Consultant will never ask to meet with you in your home. What about financial advisors? Some INPRS members work with outside financial services professionals. Ethical financial representatives will never intentionally give you the impression they work for or represent INPRS. If you're ever unsure, feel confident asking for documentation, credentials, and accreditations. Protect your financial and retirement information from fraudulent advisor claims.
INPRS members can always reach out to our Retirement Services team for guidance on what to look for when researching outside financial advisors. While working with a financial advisor is an option you can consider, do not feel obligated to do so, especially when it comes to your INPRS membership. Our team can support you with education about your plan, investment options, and the retirement process. While we do not provide advice, we do provide you with the tools and information to make informed choices about your account in alignment with your career and financial goals.
Give us a call at 844-GO-INPRS (844-464-6777), log on to your account at www.myinprsretirement.org, or register for a workshop or counseling session at Book with TimeTap. We're here to serve you through every phase of your working years, and we look forward to meeting you soon.
Avoid interest and penalties
If you still have funds in your defined contribution account, the Internal Revenue Service (IRS) has a distribution requirement for you, known as the Required Minimum Distribution (RMD). This must be done by April 1 following the year in which you turn 72 years old.
For questions regarding your INPRS benefit, contact our Member Advocate team at (844) GO-INPRS, or (844) 464-6777. If you have tax questions regarding the RMD, please consult with a tax advisor.
Tell us about your retirement!
INPRS would love to hear your retiree story. Submit yours by emailing us at Info@inprs.in.gov and include your work history, what you've been up to in retirement, and a few photos for a chance to be featured in an upcoming newsletter.
Check your withholding
It's time for you to do a quick "paycheck checkup." You're encouraged to update your federal income tax withholdings for benefit payments that are not eligible rollover distributions. To help you get a better idea, the IRS released a withholding calculator to help you identify your tax withholding. You can access the withholding calculator at https://www.irs.gov/individuals/tax-withholding-estimator. You can log on to www.myINPRSretirement.org to change your federal income tax withholding election. Alternatively, you may print off the Form W-4P, which is available to download from the IRS website at https://www.irs.gov/pub/irs-pdf/fw4p.pdf.
Update on COLAs and 13th Check
No 13th Checks are being issued to INPRS members in 2022. We recently shared more details about how COLAs and 13th checks are approved for INPRS retirees. To learn more, visit Spring 2022 Retiree News. There will be cost-of-living adjustments for the following plan retirees:
1977 Fund
Retired 1977 Fund members will receive a 3% cost-of-living adjustment (COLA) effective July 1, 2022. This includes all retired, disabled, and surviving beneficiaries of members of the fund for benefits that began on or after Dec. 31, 2021. The COLA for the 1977 Fund is linked to the Consumer Price Index (CPI). This was approved by the INPRS board.
Judges' Retirement System
Retired Judges' plan members will receive a 3.33% cost-of-living adjustment (COLA) effective July 1, 2022. The COLA benefit increase of 3.33% is based upon the state-mandated increase to the salary for actively employed judges and magistrates in positions covered by the Judges' Retirement System.
More ways to save, learn, and prepare for a healthy retirement
8 easy ways to save on health care costs: The decision to retire often weighs heavily on access to health insurance. And even if you have it, quality care seems to only get more expensive. Learn how to trim costs while you manage your health and wellness.
4 tax-smart ways to share the wealth with kids: You've worked hard and lately; you've been thinking about your legacy. If passing down financial assets is something you'd like to do, it's smart to understand the tax implications, and ways to manage them before you start writing checks.