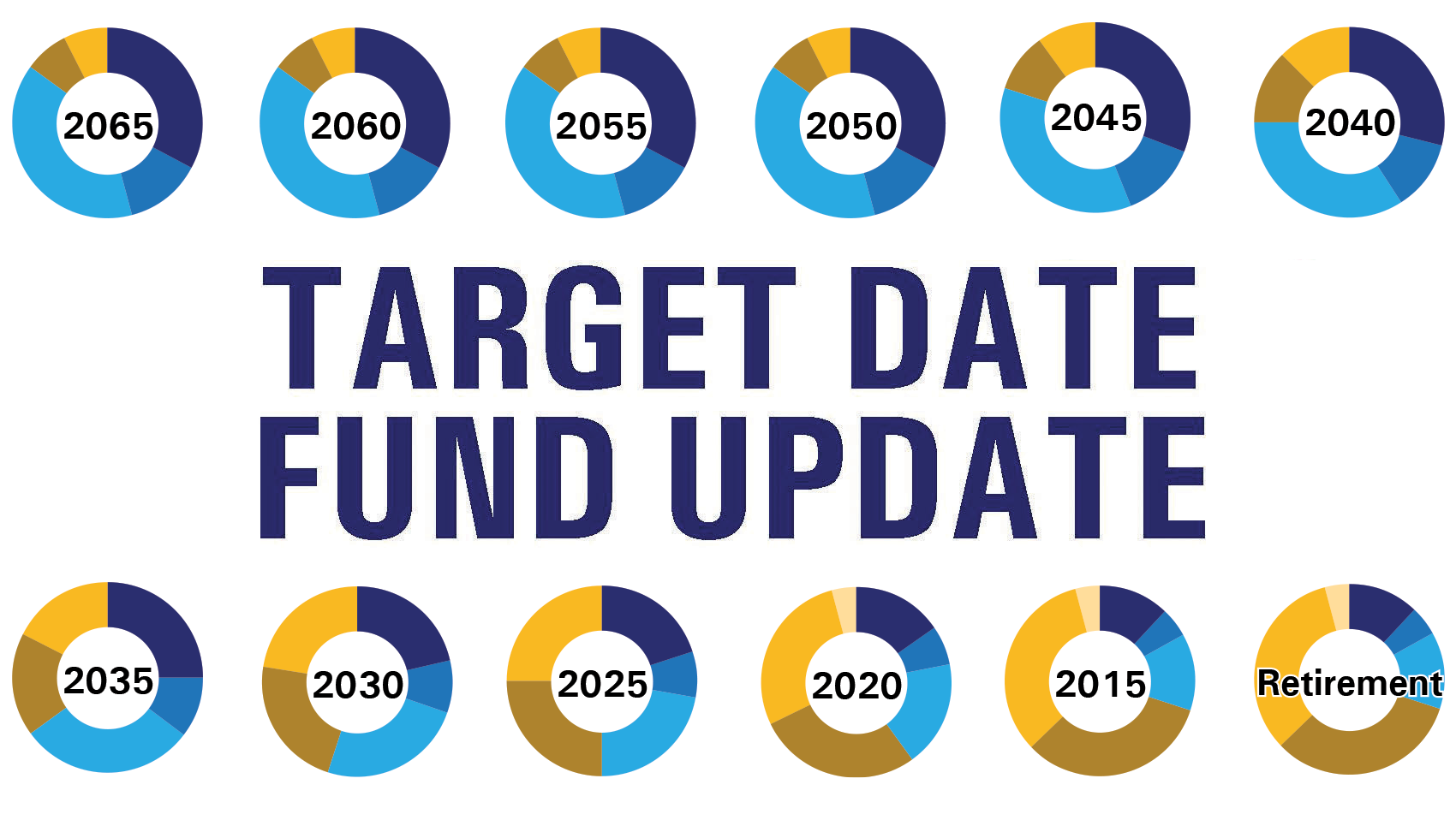 ---
New updates to target date funds
Here's what you need to know
As part of our annual routine roll-down glide path adjustment process, each of INPRS's Target Date Funds (TDFs) was updated during March and April according to the Funds' objectives to align with each retirement year. These yearly updates align investment returns and risks with the potential retirement plans of its investors. INPRS members were previously informed of these changes on their Q4 2021 statements and via email.
TDFs are a part of INPRS's investment options lineup that automatically change asset allocation for you by offering a pre-packaged mix of professionally managed investments. The pre-mixed funds are diversified investments that adjust their risk levels automatically and become more conservative as you near retirement.
The date in a TDF's name is the approximate date you are expected to retire or begin withdrawing benefits. As with any investment, there are risks and the principal value of the fund is not guaranteed at any time.
Investing in a TDF also allows you to invest "to retirement" or "through retirement" and is designed to earn positive returns. Over time, the mix of stocks and bonds within each Fund becomes more conservative. INPRS's Target Date Funds use a "through retirement" glide path construction which reduces stock exposure and increases bond exposure until 10 years after the assumed retirement date.
For more details, please review the Target Date Fund fact sheet. Additional information on TDFs and investments can be found here.
Don't let your loved ones down
Ensuring loved ones are financially covered is one of the most prudent steps you can take in financial planning.
INPRS makes it quick and easy to review and update your beneficiary information. Reviewing your beneficiaries regularly helps to keep your financial strategy up to date and in line with your goals while allowing you to navigate toward a successful financial future.
Simply log into your myINPRSretirement.org account and under your name go to "Personal Information" in the top right corner, click "Beneficiary Information" and make any edits or additions necessary.
Hello from INPRS staff member: Deborah Seals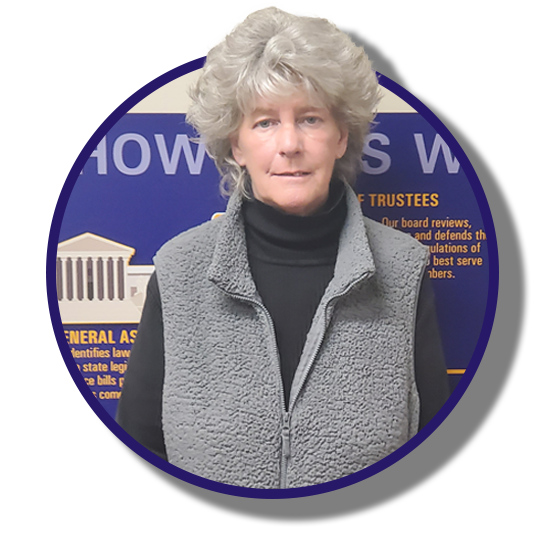 In this issue of Destination Retirement, INPRS is shining the spotlight on Deborah Seals, one of the many outstanding employees INPRS is fortunate to have a part of the team.
Learn about her time at INPRS and what motivates her to approach each day with an eagerness to help others inside and outside INPRS.
"Hello, I'm Deborah Seals, but most people call me Debbie. I've been with INPRS for almost 14 years, six years in a contract role and eight years as a full-time employee. My current official title is Senior Processor for PERF and TRF Retirement. I am the oldest of three siblings."
Debbie works in INPRS's Operations department and performs a variety of functions that include researching and answering questions for INPRS's Member Advocate Team and Outreach. "Much of my work consists of gathering data for staff to get timely and accurate information to members and providing members on-time retirement payments they have worked so hard for. Remembering that all members have unique situations and that essentially we are all members."
For Debbie, working alongside her supervisors and co-workers is what she enjoys most. "Management is very open and receptive to suggestions," stated Debbie. "Teams interact well with each other daily."
"At INPRS, there are a variety of situations and always more to learn," said Debbie. "Working at INPRS, there's a feeling that employees experience that what I am doing is making a significant difference to someone's way of life."
When away from the office, Debbie enjoys spending time with her pets, exploring nature, and soaking in the sun while working in her yard.
10 things to remember before you retire
Retirement is a major milestone and one that should be treated as such. But along the journey, things can feel complicated or overwhelming. As you navigate toward your last day on the job, there are some things you should remember.
If you are a PERF or TRF Hybrid member applying for retirement benefits, you will receive a monthly benefit for the rest of your life.
PERF or TRF My Choice plan members must select an annuity after retirement to get a monthly benefit for life.
When you apply for retirement, there are several options available to you regarding how your benefit is handled. Be sure to select the retirement benefit option that best suits your financial goals and retirement needs.
For PERF members, your retirement benefit payment date is the 15th of the month.
TRF members' retirement benefit payment date is the first of the month.
If you are eligible for normal or early retirement but have not yet applied, INPRS can provide a retroactive benefit payment of up to six months based on the date your application is submitted.

You

will receive an overview of your retirement eligibility and benefits in your Annual Member Statement, sent during the month after your birth month. The estimated benefit amount shown in your annual member statement could vary from your actual monthly defined benefit amount which is subject to final audit and calculation.
When you're ready to retire, remember to fill out the online retirement application at least 90 days before your target retirement date.
You're not eligible to receive any PERF/TRF benefit (retirement or distribution) until after your last wage-earning day with your PERF/TRF employer.
In-service withdraws and distributions are available for qualifying members. Distributions may require some information from your employer.
For additional information, visit www.inprs.in.gov, or speak with a Member Advocate Team representative at (844) GO-INPRS or 844-464-6777.
You've earned your vested status
Now is the time to plan ahead
There are many perks and benefits that come from working in public service and education. Maybe your role allows you to see firsthand the impact you can have on your community, or perhaps your purpose is fulfilled by shaping the lives of tomorrow's leaders. No matter your drive, each new day brings you closer to achieving vested status, a fitting reward for your service.
If you're not quite sure what vesting means or how to get there, don't worry; INPRS will help you understand why this is a critical component of your retirement plan and financial future.
Vesting is the minimum amount of time you must work in one or more covered positions to qualify for a benefit from a retirement fund. Public service employees and educators who are enrolled in the PERF or TRF-Hybrid Fund may be fully vested for a pension benefit after 10 years of service. Some elected officials may be fully vested after eight years of service.
Once vested, you are entitled to benefits once you meet the age and service requirements for either early or regular retirement. You are entitled to full retirement benefits when you are:
Age 65 with 10 years of creditable and/or eligibility service
Age 60 with 15 years of creditable and/or eligibility service
At least age 55 and the sum of the member's age at retirement and their total years of creditable and eligibility service under PERF equal 85 or more (Rule of 85)
You do not have to work for the same employer and the jobs do not have to be for 10 consecutive years, to reach vested status.
Members between ages 50-59 with 15 years of service may be able to retire early, but for a reduced benefit amount. To see if you are eligible, review the section "Early Retirement with a Reduced Retirement Benefit" in your Fund's handbook.
For members of the PERF or TRF My Choice plan, vesting in the value of variable rate contributions varies by length of participation.
*Below is the vesting schedule for variable rate contributions:
20 percent vested after 1 full year of participation,
40 percent vested after 2 full years of participation,
60 percent vested after 3 full years of participation,
80 percent vested after 4 full years of participation, and
100 percent vested after 5 full years of participation.
*You will not receive credit for partial years of service under the My Choice plan.
As an active PERF or TRF My Choice plan member, you can access any of the funds in which you are 100% vested once you leave service, or if you meet SEA 10 guidelines for in-service distributions. Unvested employer contributions will remain in active members' accounts.
To learn more about vesting for your specific plan, take a look at your member handbook available here. To check your earned years of service credit or verify your vested status, contact a Member Advocate Team representative at (844) GOINPRS [(844) 464-6777], or feel free to email us at questions@inprs.in.gov.
If you are nearing retirement eligibility, are ready to retire, or want more information regarding your options and the retirement process, register for a one-on-one appointment or webinar at https://bookwithinprs.timetap.com/.
Check your progress toward vesting on your Annual Member Statement, available on your secure online account at www.myINPRSretirement.org. Learn how to calculate your retirement benefit and date using INPRS's interactive benefit estimate calculators, visit www.myINPRSretirement.org/calculators.
---
Every attempt has been made to verify that the information in this publication is correct and up-to-date. Published content does not constitute legal advice. If a conflict arises between information contained in this publication and the law, the applicable law shall apply.