What is a Mitigation Site?
INDOT mitigation sites are typically used for wetland or stream mitigation for INDOT construction projects. In order to retain their character as a mitigation site, these sites can only be used for low-impact activities such as passive recreation, and have a deed restriction placed on them.
These sites are considered non-marketable because they are unsuitable for disposal to the highest bidder at a general surplus state property auction. Non-marketable property is land owned by INDOT that has been used for a purpose that has resulted in restrictions on future development, such that its value has been greatly diminished.
What Happens to Mature Mitigation Sites?
When sites have matured and have fulfilled INDOT's environmental mitigation requirements, they no longer require direct management by INDOT and may be desirable as community resources. Under state excess property rules, INDOT makes these mature sites available for transfer to other units of government through a process known as political notification.
Political notification enables other state agencies, counties, cities and towns, state educational institutions, and other entities to indicate their interest in taking ownership and management responsibility for these properties. Until now, if a mature mitigation site was not claimed through political notification, INDOT would retain it under state ownership.
Program Purpose
The purpose of INDOT's mature mitigation site transfer program is to execute the provisions of IC 8-23-7-13.5. Under IC 8-23-7-13.5, real property that is owned fee simple by the state, managed by INDOT, and encumbered by a mitigation-related deed restriction, may be designated as non-marketable and thereby made available for disposal to an eligible land management non-profit. This non-marketable property disposal process takes place after political notification.
INDOT was granted this authority in 2017 by House Enrolled Act 1422.
Sec. 13.5. (a) If the department determines that real property owned in fee simple by the department is nonmarketable due to environmental mitigation requirements imposed by federal or state regulations, the commissioner may, with the approval of the budget agency, issue an order declaring the real property nonmarketable.
(b) The department may provide a certified copy of an order described in subsection (a) to the Indiana department of administration.
(c) Nonmarketable real property described in subsection (a) shall be transferred as described under IC 4-20.5-7, except that, after fulfilling the requirements of IC 4-20.5-7-6 through IC 4-20.5-7-7.3, the nonmarketable real property described in subsection (a) may be disposed of only by:
(1) soliciting proposed uses for the nonmarketable real property from nonprofit land management organizations; and
(2) transferring the nonmarketable real property to a chosen nonprofit land management organization for a use consistent with the tendered proposal.
Nonmarketable real property disposed of as described in this subsection does not need to be appraised before the transfer of the real property.
As added by P.L.196-2017, SEC.1.
Recipient Requirements
At minimum, the recipient of a mature mitigation sites must be a non-profit corporation with a stated purpose of land management. The recipient must also show that it is capable of fulfilling the requirements of the deed restriction and will be able to perform long-term land stewardship activities on the property.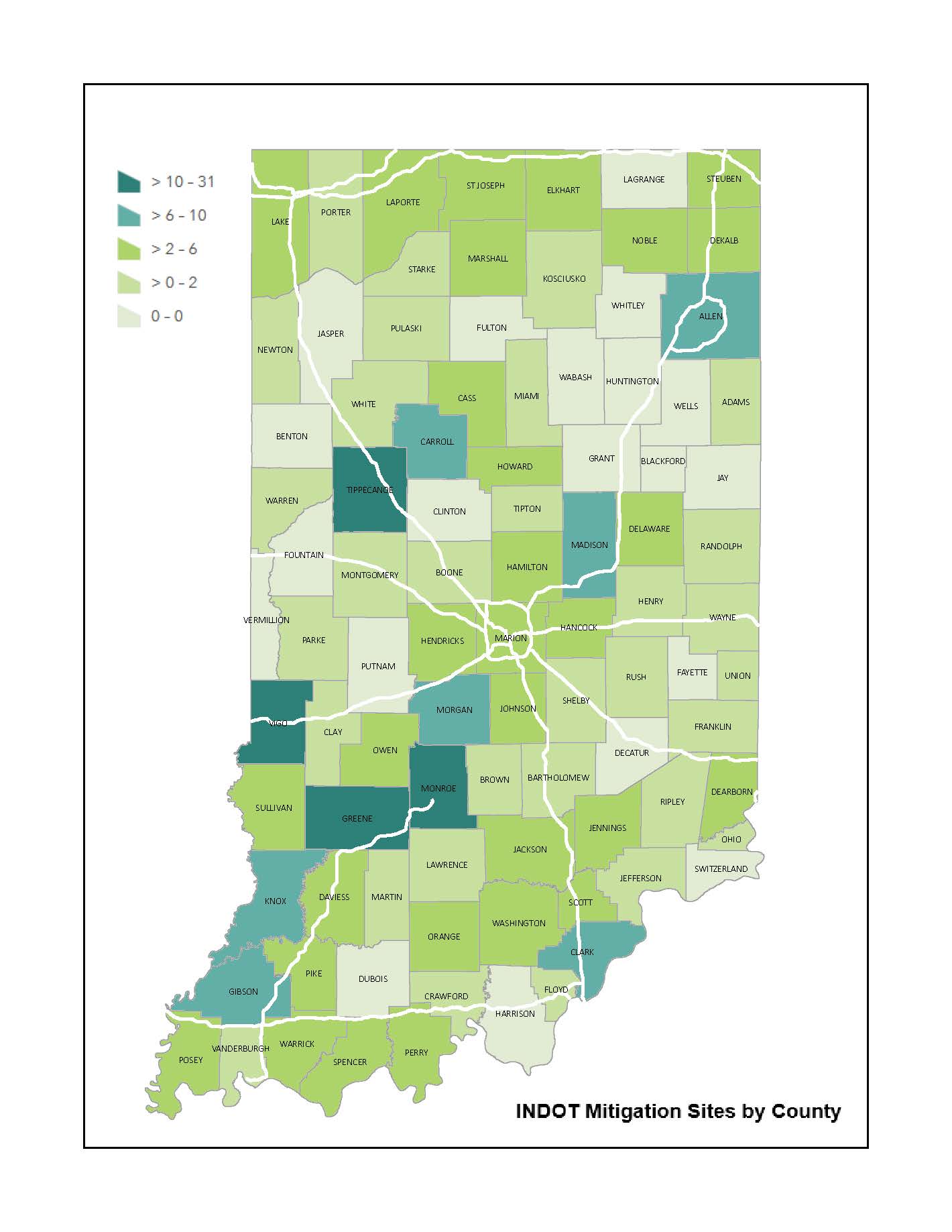 Site Ownership Interest
Potential recipients interested in taking permanent ownership of an available site should submit their credentials as a land management non-profit, a management plan, and evidence of ability to execute the management plan as indicated in the site advertisement below. Full details on the requirements for the credentials and management plan will be found in the advertisement for each property.
Available Sites
Available sites are posted here. Click here to be added to the available site listserve.
Transferred Sites
These sites have been transferred to a new permanent owner.
No sites.
Mature Mitigation Site Resources
Contact Information
William T. Geibel
Director, Real Estate
Indiana Department of Transportation
100 N. Senate Ave., IGCN 758
Indianapolis, IN 46204
WGeibel@indot.in.gov
Laura Hilden
Director of Environmental Services
Indiana Department of Transportation
317-232-5018
lhilden@indot.in.gov